The Arctic Wolf Costume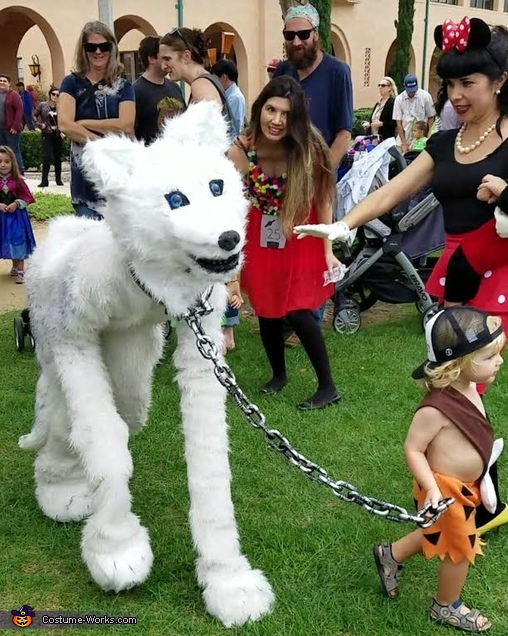 caveman and pet wolf
More views:
(click to enlarge)
A word from Kim, the 'The Arctic Wolf' costume creator:
WHERE THE IDEA CAME FROM: My 12-year-old daughter is passionate about wolves, even wearing a faux wolf tail to school and organizing two different fundraisers to support their plight, starting when she was in 3rd grade. (https://www.crowdrise.com/CalliePriebe#fundraisers) So naturally she wanted to be a wolf for Halloween. But when I realized she wanted to engineer front leg-stilts so that she could walk like a natural wolf (on all 4s), I said "NO WAY! That sounds like WAY more work than you realize and who knows what it will look like in the end and I do not have the time to take a project like that on... but I will *help* you if YOU want to figure it all out and do the major part of building it..." (I was certain she would be deterred... But to my bitter disappointment she wasn't deterred in the slightest!!!) So this costume was 100% planned out and about 75% built by a 12-year-old. (I made the fur body/tail pattern, sewed the body, and used the power tools to cut the arm stilts... She figured out the mechanics of the stilts, made every speck of the fur pattern for the head and everything else about the head, all 4 paws, sculpted the nose/tongue/teeth, painted the eyes, made the mouth open when she opens her own mouth...)

MATERIALS: Faux white fur, white thread, white velcro, 3" green foam, bike helmet, hot glue, 1" elastic, 4 different kinds of PVC, duck tape, bolts, nuts, washers, dipping rubber, Fiber-Fix, black marker, colored sculpting clay, 2 rubber balls, black felt, acrylic paint, gloves, old slippers, old flip flops, some old air-filled packing material, a broken wooden ruler, one ready-made store-bought plastic collar, a long sleeve white rash guard, and white leggings.

HOW TO: The fur was cut using a DIY full body pattern made from taping the actual body of my daughter (using Duck tape) but adding extra room for movement and a lot of extra length in the arms. It closes using velcro. The tail was cut free form and is stuffed with air-filled packing material we had laying around. The head was made by taking a bike helmet and hot gluing hand-sculpted chunks of foam onto it. Then Duck tape was used to make a pattern for the face fur then the fur was cut into pieces which were glued onto the ears and face. The jaw was made to open using elastic bands that were glued to the head and wrapped under the chin. The wood ruler was used as the part that went under her chin and I am not sure what purpose it serves but she must have a reason! The nose, teeth, tongue, lips, and claws were hand sculpted from colored clay and hot glued on. The eyes were rubber balls she painted with acrylic paint, and then hot glued onto black felt eye sockets, which were glued onto the face. The back paws were old slippers with sculpted foam glued to them, then faux fur hot glued on. The bottom of the slippers were made by cutting up old flip flops, gluing them onto the slippers for soles, and then painting the bottom of the paws with black dipping rubber. The front legs are jointed stilts made from PVC cut such that there are 2 new opposite pointing 1-directional joints in each arm in addition to my daughter's natural elbow joint. That is the reason it so incredible to watch walk... people instinctively know humans aren't jointed to do that so their minds get confused and cannot make sense of how a human is walking like that. Even dogs are confused! A PVC handle was cut crosswise into the PVC forearm area, for her to grip, bearing all the weight of her upper body when walking. Holes were drilled out for her knuckles. A Dremel and sandpaper were used to make the PVC knuckle edges rounded (for comfort). The PVC segments were then connected using 3.5" threaded bolts and secured with washers and nuts. Certain areas of the weight-bearing PVC were reinforced using Fiber-Fix. White Duck tape was used to cover the dark color of the Fiber-Fix. The front paws were made by hot-gluing sculpted chunks of foam to the PVC, covering them in fur, using flip flop rubber for the soles, then painting the bottoms with black dipping rubber. A black permanent Sharpie marker was used to make the wolf's fur markings. Underneath she wears a long sleeve rash guard and leggings we had around the house from when she goes surfing and snowboarding even though this costume is very HOT to wear, they and are needed here because the cheap faux fur fabric irritates her skin. The silver plastic collar is purchased at a costume store and was the only thing that was not DIY.

OTHER INFORMATION:
I really never thought anything would make this project worth all the work of running to the hardware, fabric, and craft supply stores over and over again as we did trial and error, figuring out what modifications were needed as the project progressed... (over about 6 months) However, we now both agree that the reactions make it worth every single bit of effort! My daughter walking into an open area is more of a show stopper than if an A-listed celebrity walked in... Every single adult, child, AND EVEN DOGS stop whatever they were doing and stare... then their jaw drops open... then they come walking closer to try to figure out what their eyes are telling their brains is happening. Most kids immediately start petting her but a few are tentative and a few burst into tears and run to their moms. Then the adults start asking me questions and then finally they pet or try to interact with her directly. The dogs are a riot because as soon as they see the walking movement they get really anxious and bark like crazy until they can get close enough such that their sense of smell tells them it's just an ordinary old human... And they take a good long minute to smell, to be really certain before they start to relax and if my daughter moves at all during the "smell-time," the dogs get really upset and start barking all over agian. My daughter being a canine enthusiast knows to get into a submissive pose and so she lays down and rolls on her back for the dogs. And the little kids are probably the most amazing because they do not filter their thoughts or behaviors at all, as adults try to. They are drawn like magnets. I let the little kids take her by the leash and lead her around and they love it! They think they now own a pet wolf. She plays along, exhibiting appropriate canine behavior masterfully. The funniest part though is even after the adults have asked a bunch of questions and are completely comfortable petting her I have noticed if she jolts her head up too quickly or takes a bold step toward them or something their natural reaction takes over and they jump away. They cannot help it even though it is blatantly obvious this is not a real untamed animal! I think their minds understand but their limbic systems still remain a tad unconvinced...

Photos do NOT do this costume justice AT ALL. Even the video doesn't. The photos I posted are the best I could find to show off how the 4 legs are bearing all of her weight and the way the joints bend. It's the jointed movement and size of the wolf that is hypnotic. People can't figure out what is going on so their mind shifts to consider if 2 people are actually in there but then they realize it's the size of only one human form not two and then they are back to being confused... She entered two contests over the weekend and won the grand prize in both against some truly brilliantly clever and amazing adult costumes even. In fact, it was SO HARD to get photos to submit because in all of my photos from this weekend my daughter is being swarmed by kids and people taking photos/videos. She is the one who went online and found your contest so I can tell she is getting so much joy out of having all her efforts and determination pay off. Thank you for creating this opportunity for the kids.