Thanksgiving Costumes
Thanksgiving isn't typically a time when one thinks of "Costumes" I dare say. I think we may rather be mulling over GrandMas Pumpkin Pie with Whipped Cream..or Roast Turkey with all the trimmings. (THAT would be ME!:-) HOWEVER! There ARE times when one may want to be in costume. A Parade..or a Play perhaps. Maybe you'd just like to get dressed up to amuse the family members that are coming over for the Grand Meal! One could be a Pilgrim, a Native American, a Turkey, or even an Ear of CORN! IF you don't care to "dress up" completely..there are "trimmings" that we may wear just as added decoration to any party. A Hat maybe.
Let's explore what kinds of things can be found to better DRESS for Thanksgiving.
The costumeman(.com) at FrankBees has a few VERY handsome Turkey Costumes IF one dares to play the part of the Gobbler. :-)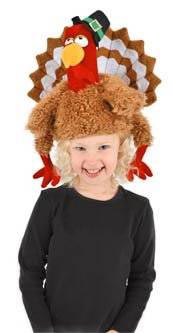 If you don't feel inclined to get FULLY Costumed for Thanksgiving...there are simpler ideas. Tis the season that you will find TURKEY HATS at just about any of the Costume stores.
Then there's ALWAYS online costume shops for TONS of Thanksgiving Costumes and Thanksgiving Partywares.
If you'd like to try something different this Thanksgiving... How about a Turkey Pinata to add to the fun.
Isn't it ADORABLE? Well...it KINDA looks like a Turkey...doesn't it?

At Pinata.com you will find LOTS of Thanksgiving Party Supplies. From pretty Thanksgiving Plates and Napkins, to lovely Thanksgiving Centerpieces and Banners.
Thanksgiving is a time for Giving Thanks for what we have and the main Celebration is usually in the form of the "Feast" (No it is NOT "FOOTBALL" as SOME would have you believe! har! har! Ü). If you have the opportunity to get into Thanksgiving Costume, or even wear a simple Pilgrims Hat to the Thanksgiving Activities... easily find what you need through my pages. Just remember not to eat too much like I always do. Ü