Teeny Tiny Moth Escapes Death Costume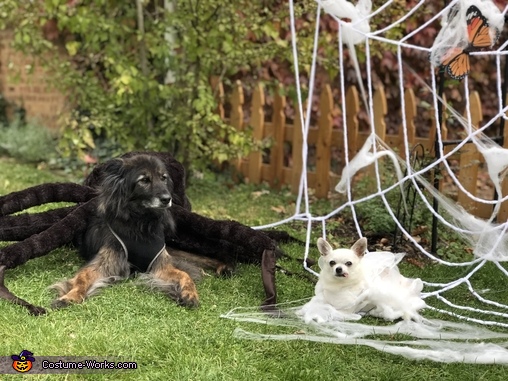 Moth and Spider
More views:
(click to enlarge)
A word from Deedee, the 'Teeny Tiny Moth Escapes Death' costume creator:
Story of a teeny tiny moth who escapes death. 🕸🕷
Giant spider spins a gigantic web and awaits her prey. Luckily for her, a teeny tiny moth gets tangled in her web. The moth will be a delicious meal. The little moth struggles to get free but is unable to move his tiny wings. The little moth is scared. He says a prayer and remembers he didnít tell his mom he loved her today. The little moth begins to cry at the thought of never seeing his mom again. He is determined to see his mom and tell her he loves her. He breaks free from the web! He wipes his tears as he runs/flies home to his mother. The little moth jumps in his motherís wings and tells her he loves her! The teeny tiny moth lives happily ever after with his mom. The end.
Spider costume (Harley, Shepherd-mix): I made his costume using a faux fur throw blanket and an old pillow. I used poly-fil and wire for the legs.
Moth costume (Gizmo, Chihuahua): I bought the wings and wrapped him using store-bought stretch spider web material.