Technology Man Costume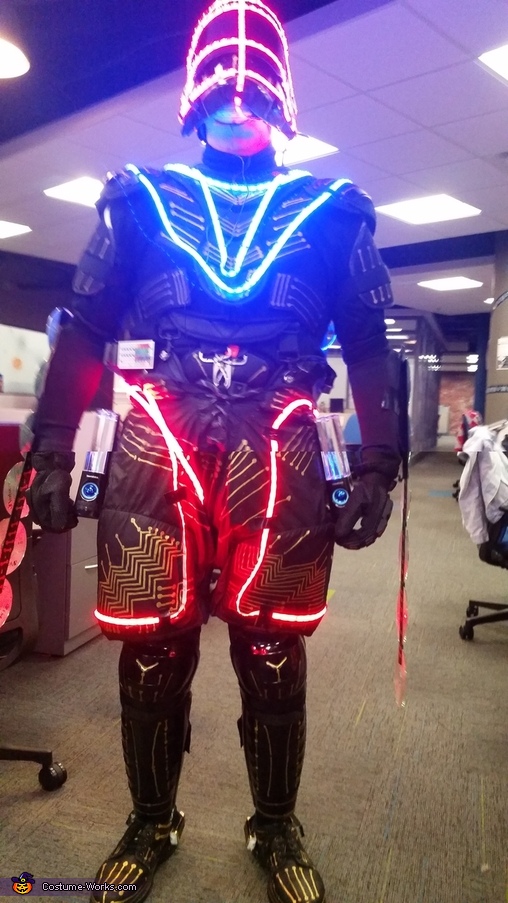 Technology Man! The Front
More views:
(click to enlarge)
A word from James, the 'Technology Man' costume creator:
Inspiration:
I am personally wearing the costume. It came to me from a Superhero week at work and I wanted to win some hockey tickets for my girlfriend. I had one night to make it and no money so I went home and made version 1 out of spare computer parts since another hobby of mine is making PCs. Also a set of Christmas lights my mom let me use. It was made in 7 hours overnight. Version 1 was a hit and I won the prize and we were going to have another costume contest. I wanted to make a version 2 and this time I had much more time and a little more cash to spend on it.

A brief how to guide:
The costume is made from hockey pads, strip LED lights, a custom cut grinding visor and a lot of trial and error. The first step was ordering all the parts. Then I had to spray paint all of them black, nothing was black when I bought it and I went through 2 cans of fabric spray paint coloring the chest and hockey pants, normally used to customize car interiors. The longest part was drawing all the circuits on the costume itself. In order to do that I used a gold acrylic paint pen sold at an office supply store. I also had to drill some custom holes to hold the visor to the mask, the visor itself had to be cut to size. Another key part was industrial strength velcro which is what is the main support for holding the power pack on my back to the costume itself. It required some costume know-how and a little creativity to make it work. Also gorilla duct tape is holding on a log of the lights. I also had a little luck and good timing with buying some of the parts on clearance so they were much cheaper than normal.

The Result:

Three weeks later Technology Man V2 is complete. The music is controlled with my Ipod which is strapped to my arm via velcro and I have multiple remotes so people can interact with the costume and change the colors to their liking. There are 3 different lighting zones; helmet, chest and pants. The shoes have pressure sensors in them so when I walk it makes robot sounds which I took from a pair of robot slippers that I wasnt using. I intend to further modify it and reuse it for conventions including adding a projector to watch movies from my phone and possibly adding wings to it.

I had a lot of fun building it and the reactions were always positive. I cant wait to debut it at future conventions.