Tauriel the Elf Ranger in The Hobbit Costume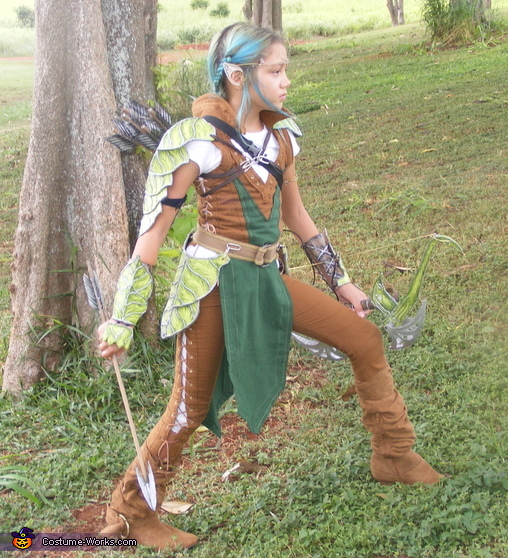 Tauriel Scouting some trespassers
More views:
(click to enlarge)
A word from Val, the 'Tauriel the Elf Warrior' costume creator:
My daughter Maia is posing as Tauriel the forest elf archer. My wife ask me to make our daughter an elf this year, I said "Elf" the movie, you got it" !POW! no she said, "more like lord of the rings."
So, we bought brown and green felt sewed a vest w/v inset (the green flappy thingy that hangs down in front and back) snapped shoe eyelets on the side and weaved leather string.
we cut cardboard for the armor (shoulder, hip, quiver/arrows and bow. We even made a full size arrow that looks like the black arrow that took down smog.
we used hot glue to hold the armor together, and to trim the border of the armor then we hand painted the borders silver. We also shaded the lime green with dark green.
The wrist guards, arrows/ quiver and bow's handle painted brown and shaded black to look like wood.
We used bronze and silver wire to make the tiara, arm band and elvish ear cuff.
No serious hot glue burns. and surprisingly the costume only took maybe a month to make.
Although we didn't win any mall contests, we got great reviews and requests from contestant's parents and mall shoppers. some wanted us to make similar jewelry for them and comments on the creative quality on the costume and props design and paint job. Only our second costume build, so you can imagine the excitement for such raves. We did have fun making this one since it only took a month to make.