Sunshine the Unicorn and Lion Sidekick Costume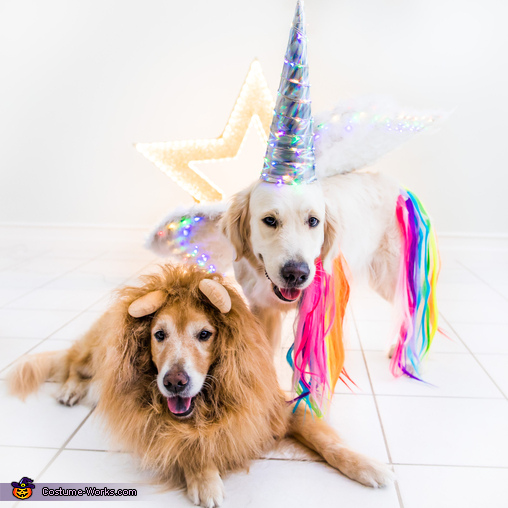 Sunshine the Unicorn and Lion Sidekick Costume
More views:
(click to enlarge)
A word from Sara, the 'Sunshine the Unicorn and Lion Sidekick' costume creator:
Note from Sunshine the Golden Pup about why the Unicorn costume was created for her:

I'm Sunshine and I pretty much live my life spreading rainbows and sparkles to everyone I meet. There isn't one human or creature that I don't love...in fact my mom has a couple really funny videos showing me cuddling with a baby duck and me with a squirrel who kept climbing down the tree to touch noses with me. I have a neighboor pig friend and even a mini-white horse pal that looks like me. That white horse friend is where my mom got the idea to dress me up as a Unicorn this year. Also, I'm studying to be a Therapy Dog to help people and kids (I just love kids more than anything in the world!) in the hospital feel better. Unicorns have magical powers in their horn to heal sicknesses and my mom thinks that sometimes I'm a bit magical in the way I make people smile and feel good about themselves.

Of course, I couldn't be just any Unicorn…I needed to be one that would glow at night and still show off their sparkle and colorful happiness throughout the land even in the starlight. So, my mom and I went to work on making me a rainbow-sparkle-filled-costume to bring lots of joy to people and puppies alike!


Note from Sunshine the Golden Pup about how we made the Unicorn Costume:

My mom grew up making arts and crafts as a kid…she was homeschooled for a few years and likes to joke that the reason she's not very great at Geography is because from 2nd to 6th grade while living in Minnesota, all she did was paint, draw and watch American Movie Classics (old black and white movies). However, she likes to think that this creative time in her life helped contribute to her love of photography and creative streak loving arts and crafting!

How this costume was made. My mom started with ordering a few important pieces from online. Every color of the rainbow hair extensions for the mane and the tail were ordered as well as battery powered LED lights for the horn and wings. The wings were ordered as angel wings and probably would've been cute on their own, but they definitely needed a little sparkle if they were going to be real Unicorn wings! The horn was completely crafted with special pieces from Michaels Arts and Crafts and the LED lights were ordered online.

Wings: E6000 glue is my mom's favorite way to stick things…it always dries super clear and holds like nothing else. If you have ever seen my mom in her photography role, you probably noticed her pink-bedazzled camera. All those little pink Swarovski Crystal rhinestones were hand placed by my mom with E6000 glue and tweezers. I've seen my mom spend hours bedazzling her camera so of course I trusted that this would make the LED lights stick to my angel wings. Getting the ropes of colorful LED lights to perfectly align on the wings was no easy feat. I kept an eye on my mom and would occasionally bring her a tennis ball to see if she wanted to take a break and play for a bit. The key, my mom told me, was that the little switches for the LED lights should be glued in a way that we could change out the batteries for the LED lights if they went out.

Unicorn Horn: For the unicorn horn, my mom picked up from Michaels Arts and Crafts a Green foam cone shape and a fabulous scrapbooking sheet of iridescent paper. Using a hot glue gun for the initial attachment of the paper (because E6000 glue doesn't attach itself as quickly as a hot glue gun glue) my mom folded the paper around the cone in the unicorn cone shape. Like the wings, when attaching the outside rope of LED lights, it was important that the LED light switches were accessible to turn on and off. To make the switches accessible she buried the pack of switches inside the green craft cone by carving out a little pocket into the foam. Then there was a clear headband with a halo on it that came with the angel wings. Since we were not using the halo (of course Unicorns don't have halos!) my mom took off the white halo part and just used the clear plastic headband to have the horn attach to. This was a tricky part and we used special spray foam that fluffed up to attach the horn to the headband. I think the foam was called "Great Stuff" spray foam. Then my mom wrapped the horn in LED lights and voilá!

Mane & Tail: This was probably my least favorite part was having the colorful hair extensions attached to my fur! I don't know how those fancy celebrity types on TV always wear these things in their hair! Hair extensions are itchy…and everytime my mom would attach them to me for photos she would get done and I would "shake, shake, shake" to try and get them off! Eventually I let her leave them on me, but I will tell you that the hair extension clips are just silly, even though they made the outfit perfect.

The reactions I received when wearing my Sunshine the Unicorn costume was priceless and made my mom so happy to have spent the countless hours crafting my dog costume. We went trick-or-treating with a few pup friends of ours on our street and my mom loved how everyone happy people were to see me! My Sunshine the Unicorn dog costume was especially awesome as the sun started to go down. Naturally, I look like I'm glow-in-the-dark anyway because of my bright-white fur. To add the LED wings and horn to me was just about as star-sparkly as you could get!

Spreading cheer is something that should be done all year long! As Sunshine the Golden Pup I strongly believe in making people happy when they see me. I loved my Sunshine the Unicorn costume because it made so many people smile. Life is about bringing happiness to others and I hope you always do the same in life.