Sub Zero Costume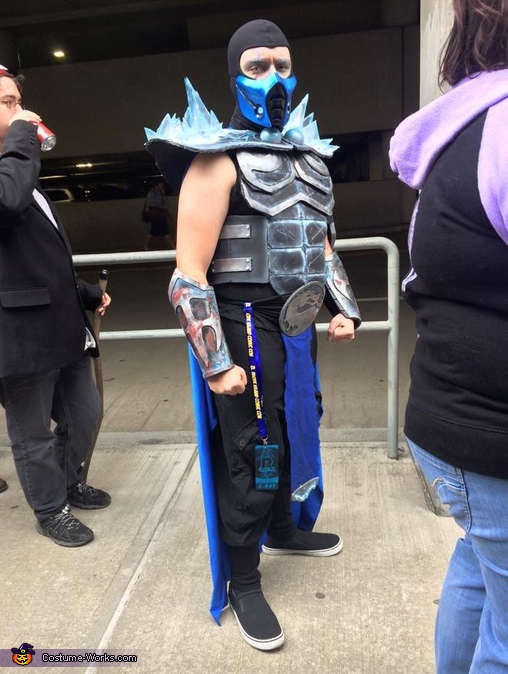 Complete
More views:
(click to enlarge)
A word from Shawn, the 'Sub Zero' costume creator:
For the past year I have worked on my own take of Mortal Kombat character Sub Zero. I recently wore this costume to Rhode Island Comic Con where it got a great positive response. I grew up playing the games and Sub Zero was always my favorite so I got the idea to do a costume on my favorite video game character. When I make costumes I usually do my own take on the costume so I can have artistic freedom. All the armor is made of EVA Foam and Craft Foam. I made templates to fit my body, cut out the EVA foam, heated and formed it to my body. I then added small details with craft foam. I then seal with wood glue and spray painted. The frost paint was used with an airbrush.

For the shoulder piece I used clear vinyl for the ice shards. I cut random triangles and hot glued them together. I added lights underneath the shoulder piece by hot gluing them to the EVA foam to illuminate the ice. I added epsom salt for snow. For the mask my friend from Darb Designz worked on it. Sculpting and casting in a hard plastic and adding LEDs to the inside of the mask to light up.

For the makeup I used blue and silver eyeshadows around my eyes, a white contact thens and scarring gel.

The overall costume took me approx. 6 months to make and cost under $100.