Sub-Zero Costume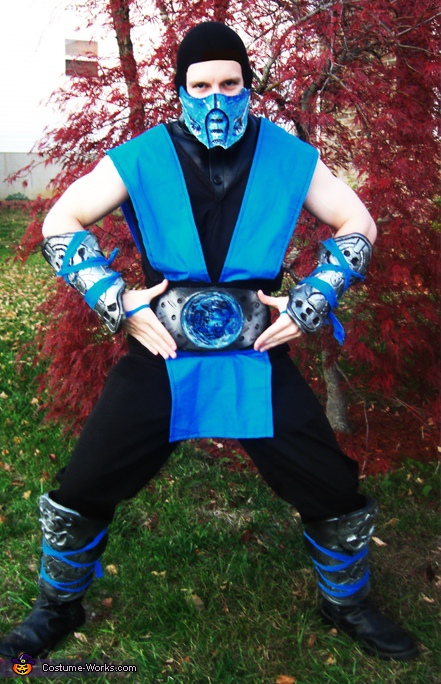 Sub-Zero Costume
More views:
(click to enlarge)
A word from Kurt, the 'Sub-Zero' costume creator:
This costume is completely homemade. The mask is a cheap balaclava and a mouth cover made of card stock paper. The detailing of the mask was done buy gluing the carstock together from small cutout pieces; painting over the whole thing with Modpodge and smoothing it out with some sand paper; then I spray painted it silber, added some toothpaste and painted the mask the blue shade I wanted; Then i scrubbed the mask with a rag and all the paint on top of the toothpaste came off to make the mask look battle worn.
The belt and arm and leg guards are made of foam mat; I cut them out of the foam and then carved them with a dremel tool; Then I put them in my preheated oven for 30sec to a minute and quickly shaped them to my body as they cooled; I painted them with Plasti-Dip and then covered them with Silver paint; For detailing I made scratches with an exacto-knife, covered the cuts with black paint and wiped it off with a rag.
For the under clothing I just wore a cheap chopped up pleather matrix Halloween coat, and some dress pants with boots. The blue kungfu gi was made from blue cloth that was chopped into 4 long and 1 small rectangle that my girlfriend helped me sow together.