Strawberry Shortcake Costume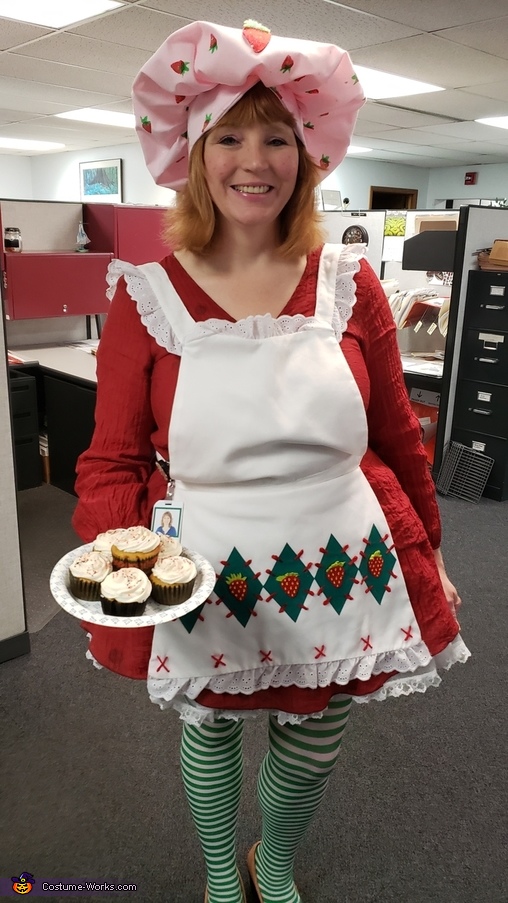 Stawberry Shortcake passing out cupcakes.
More views:
(click to enlarge)
A word from Della, the 'Strawberry Shortcake' costume creator:
I am Strawberry Shortcake! I loved the dolls when I was little, I am a natural red head, and I love to bake so it was the perfect costume idea for me. I bought the shoes almost a year in advance because I saw them at Goodwill and thought these are perfect except I will need to paint them tan. I did learn the hard way that fabric paint should have been used. They cracked the first time I wore them because shoes bend when you walk. The fabric paint did work well. I bought the tights on-line because where else would you find green and white striped tights. The dress is actually a 2x shirt that was burgundy. I bleached to a bright pink and then dyed it for days to get it to the right red. I also added spots that I hated and washed out. They didn't come out completely but then I liked them better. They are mostly covered by the apron anyway. I made the apron for a Mrs. White costume a couple of years ago and so I just added the green diamonds, strawberries, and X's. These were made with felt and yarn. I also made a tutu because I thought it would be cute to have the dress fluff out a bit. Lastly, the hat was a men's pink dress shirt from Goodwill. I bought it because I couldn't find any material that was the right color. I made a sample hat and decided it had to be much bigger. Before I could sew it into a hat I had to paint little white dots, strawberries, and the hulls onto the material with fabric paint. I used a potato to make the stamps for the strawberries and hulls. I also made a felt strawberry for the front of the hat and put a thicker craft paper in the hat to help keep its shape. When I wore the costume to work I took cupcakes to share and I took strawberry and blueberry muffins in a basket when I went out to a costume party. The final touch was wearing strawberry extract so I smelled like strawberries and the doll. In the end, I think I probably put almost $50 into the costume but I did win some of it back.