Storm Cloud and Lightning Victim Costume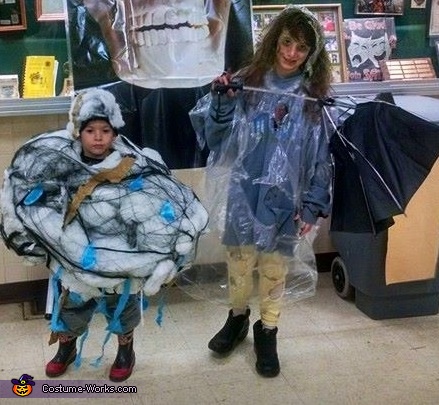 Storm Cloud and Lightning Victim
More views:
(click to enlarge)
A word from Melissa, the 'Storm Cloud and Lightning Victim' costume creator:
When asking my 5 yr old boy what he wanted to be for Halloween ,he said a storm cloud,so I made him that and his sister his lightening victim. These costumes were made with stuff found around the house. To make the storm cloud, I used an old rocking chair cushion ,covered it in a white fluff linen and took fluff out of an old pillow to cover the cushion and make fluffy. Then took a bag of black and white spider webbing and covered the fluff and cushion with it to make t look like a storm cloud. I used a old gold glittery shirt to cut out lightening bolts and shiny blue rain drops and rain streamers. Glued these on the cloud and on a black shirt and grey pants for under cloud. Also found an old black winter hat to glue on white fluff and a lightening bolt.
A hole was cut in middle of cushion to put head through to hold cloud.
For the lightening victim,just used some old clothes to burn some holes in them and a cheap plastic rain cover. Messed up hair and makeup to look like bruised and struck by lightening. Then broken up an old umbrella to look like struck by lightening.