Steampunk Traveller Costume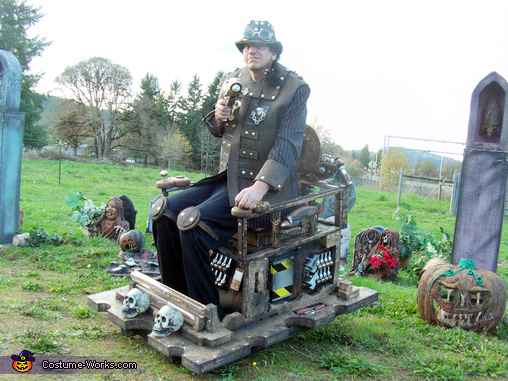 Steampunk Traveller Costume
More views:
(click to enlarge)
A word from Scott, the 'Steampunk Traveller' costume creator:
I am wearing the costume in the pictures. I built this costume using 98% recycled materials that included foam packing materials, plastic packaging, scrap wood, and misc. disposable items. I also used a couple of toy guns and game controllers for dramatic effect! All pieces were constructed or re- constructed hand painted by me to create a unique style.
The costume appears to levitate with the wearer appearing to ride the vehicle. The vehicle looks extremely heavy but weighs less than 20 lbs. It also includes lights & sound!
I also created a custom jacket using an old suit jacket & foam. The hat is custom made using the same foam material used throughout the costume.