Steampunk Victorians Costume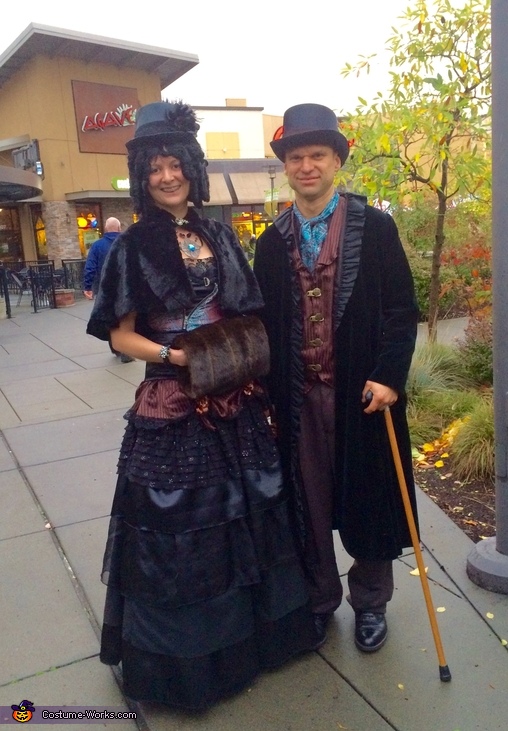 Steampunk Victorians
A word from Jenette, the 'Steampunk Victorians' costume creator:
My husband and I are wearing the costumes. The idea first came to do a steampunk look last Halloween since I had just recently learned what steampunk was during a hiking trip. This idea later developed into a Victorian style over the course of the year since I really like the Victorian style. I made a lot of the pieces myself but also obtained some of the items from thrift stores and garage sales.

My costume:
Top Hat: I got the hat from a garage sale. I added some details such as a small feather boa to the top, a belt that I sized to fit as the hat band, a flower, and some netting. I used hot glue to add these.
Corset: I purchased this item at a thrift store and sewed on the brocade material and lace.
Skirt: I made the skirt and added 5 layers of different materials for the ruffles. I also added a small brown striped skirt with lace as another layer.
Cape: I made the cape from short fake fur and added a vintage broach.
Necklace and bracelet: I made both items from beads and other jewelry that I took apart.
Petticoat and shoes: These items were purchased at a thrift store.
Vintage fake fur hand muff: I got this item from a garage sale.

My husband's costume:
Top hat: I purchased the hat at a thrift store and added a brown band that I took from another hat.
Vest: I made the vest from the same material as the brown striped skirt.
Tie: I made the tie from the same brocade material that was on the corset.
Jacket and shoes: Both were borrowed from a theatre.
Pants: The pants were purchased at a thrift store.
Cane: The cane was purchased at a garage sale.