Steampunk Furnace Bottom Costume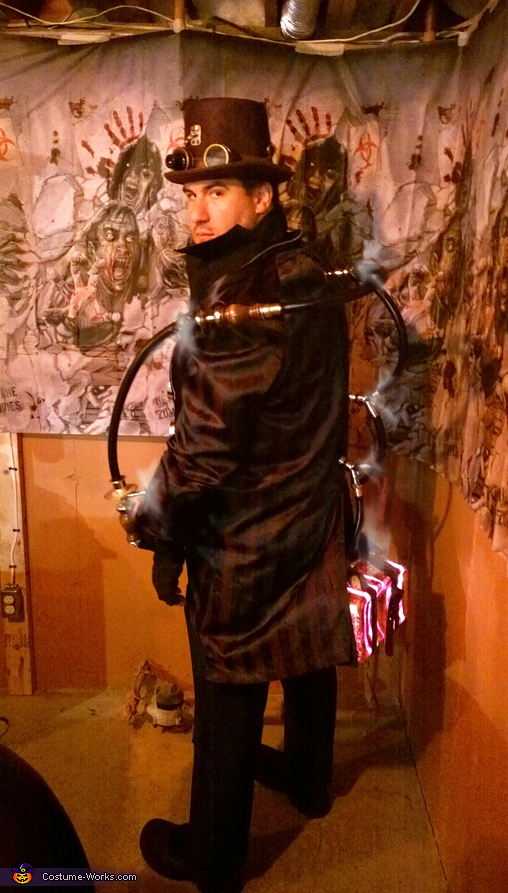 Steampunk Furnace Bottom Costume
More views:
(click to enlarge)
A word from Eric, the 'Steampunk Furnace Bottom' costume creator:
As steampunk culture is growing I was intrigued and decided to do a little research and create this getup. Some versions of Steampunk takes place in Victorian times where everything is powered by steam instead of electricity.

I made this costume completely out of things I found at Savers which is a thrift shop chain store. I bought an old jacket which I flipped inside out to use the cool black and red striped lining material, and then cut and sewed the front so it was more of an older era jacket with tails. I bought a top hat and goggles and attached a diamond loupe lens to them. I also attached a door chain latch to the top hat. The front dials on the jacket were attached with wire and came off of an old ships barometer/air pressure display (found at Savers). The fingerless gloves were gloves cut down.

The real real challenge was the piping alone my spine. The hose is an old watering hose cut into sections attached to gold metal candle holders I found at Savers. The holders were all individually strapped by belts around my body under the jacket. The hose was then glue/cemented into each candle holder. The difficulty was getting the tubing to let smoke pass through which came from the "furnace". The furnace on my bottome half has two compartments made from two different tupperware containers. The outside container has vents cut into it and battery operated red Christmas lights taped inside the tupperware so only the glow is visible which fades in and out looking like flames. The inner container held a plastic bag of dry ice. One of the pipes on my back was designed to unscrew and you can pour beer/water/any liquid down it to activate the dry ice. Then you can screw it back together and the smoke would come out of all the pipes along my spine and left arm.

Also not pictured was I road around on an exodus self balancing 'hoverboard' which I did not make but allowed me to move around fluidly and steampunky. The whole costume probably cost about $150 to make. The candle holders were solid brass and old/heavy. The dry ice cost about 50 dollars for all the days I needed it.

Spending money on Halloween is always worth it for me though, it is the one time of year I am guaranteed some artistic tie to sketch out and create a costume. With some of us having busy schedules and 'normal' jobs in the world it sometimes is the only time to be real creative. I look forward to it every year and always have a blast trying and finishing it before the first friends party/event. I had a great time making this and I'm glad it all ended up coming together and working in the end. It is one I will be saving for future 'Steampunk' events this year not that I discovered how fun it is.

The people I met along the streets and at club halloween parties were priceless. Riding onto the dance floor on my hoverboard and swirling in and out of people with 'flames' and steam coming out of my back left quite the trail of confused but happy faces. People took pictures with me, and another steampunk couple there bought me drinks the second they saw me show up. They were so excited another Steampunker showed up.

I had a fantastic time and I think a lot of people enjoyed my costume and learning what steampunk was all about. Steam on!