Steampunk Alien Invasion Family Costume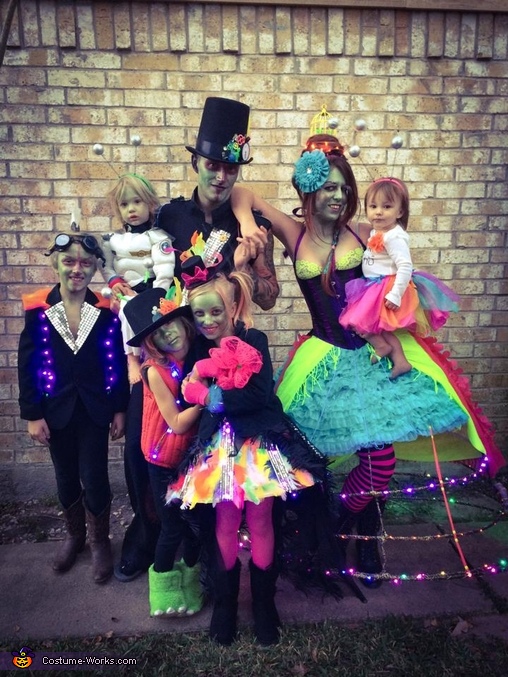 Steampunk Alien Invasion
More views:
(click to enlarge)
A word from Briean, the 'Steampunk Alien Invasion' costume creator:
Originally, when my kids asked if we could all go as aliens for Halloween, I said no. I've seen so many alien costumes over the years and I just felt like they had been styled into the ground. However, I randomly came across a short, caged hoop dress on Pinterest and the thought of Steampunk inspired alien costumes was suddenly intriguing.

I started with some packaged gears for jewelry making and spray painted them with neon, glow in the dark paint (you can see them on the hats) and then sketched out full costumes from there.

Camren (8) is wearing leggings, boots and a suit jacket I adorned with orange fur shoulders and shiny fabric sewed into the lapels. The battery packs for two strands of purple LED lights sit in the pockets and I sewed them up around the shoulders and down the back of the jacket. His goggles were ordered online and I found his light up Mohawk headband at Party City.

Sawyer (6) is in leggings, clawed slippers (Walmart) and an orange vest I lit with blue LED lights. His hat was bought plain and decorated with neon gear fixings, parts from an old sewing machine, feathers and an alien antenna headband (Party City).

Adison (7) wanted a skirt similar to mine. I started with a lampshade and broke the metal framework out of the top. I then sewed it to a plain tank top to make a harness of sorts. Sequined fabric was sewn in stripes down the sides and lot with purple LED lights. Between those, I glued in multicolored feathers. The back was draped with four different fabrics. Her jacket originally belonged to my son and I made a large, pink, lace flower with an alien in the center for decoration. Her hat was bought already made (Party City) but I carefully removed it's original "Hello Kitty" decor.

Sebastian (2) had by far the simplest costume due to his current aversion to wearing clothes. His astronaut costume was bought at Target.

Eisley (1) is in a tulle tutu (party city) that I bustled in the back and altered to fit her. The onesie was bought plain and I wrote the words "Earth Sucks" on it in fabric marker.

My husband, Trae is in a top hat I bought plain (Party City) and decorated with neon gear fixings, feathers, a fabric flower, clock parts and glow in the dark aliens (Target). His tail coat and pants were part of a steampunk costume I ordered online and then altered with shiny fabric and lit with LED shoelaces installed at the top of the shoulders. He did his makeup himself and was very proud of it.

My costume was by far the most intricate and time consuming. The corset was ordered online along with a plain, white hoop skirt. I started by cutting the bottom fabric out of the skirt to give it a cage look and then wrapped the remaining pieces with long strips of black and gold denim. Around that, I wrapped long strands of multicolored LED lights. Some of them flashing, some not. I pleated the blue ruffled fabric horizontally to make it fuller and attached it to the top of the skirt. The back is draped in 6 different fabrics, including a large, neon green scarf. The hair piece is a yellow cage with little glow in the dark aliens tied and hanging inside with black thread. At the bottom is a battery pack for the strand of orange lights I wrapped around my hair. The fabric flower attached to my antenna headband was bought from JoAnn's. There are eight battery packs for the skirt and they're attached to the hoops with copper wiring.

It was the lights that made these costumes extra special. They were relatively inexpensive, and for the most part really durable! People were getting in their cars and driving over to where we were trick or treating just to get a better look.

In total, these costumes took about 17 hours to complete and cost around 300 dollars, including accessories.