SQUIRT from Finding Dory Costume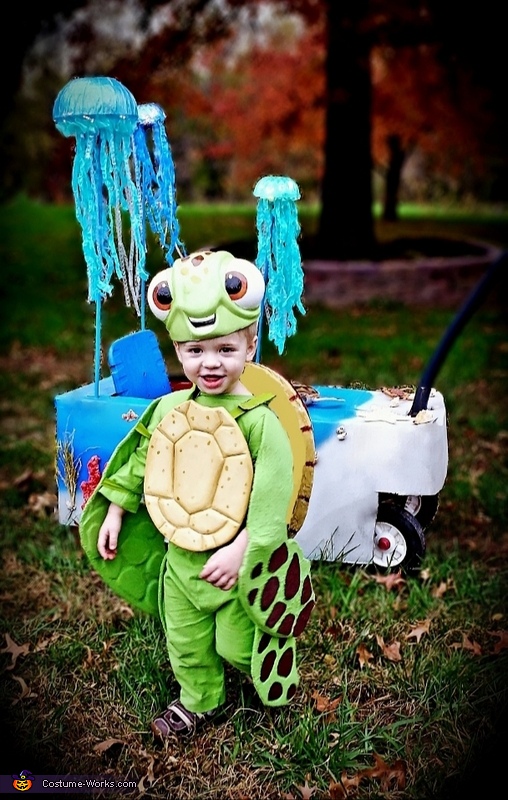 Squirt and his sea wagon
More views:
(click to enlarge)
A word from Janelle, the 'Squirt from Finding Dory' costume creator:
This is my 2 year old son Jax, who is dressed as squirt from finding dory. Finding dory is one of his favorite shows and squirt most fits his personality is how we came up with the costume. How I made the costume is all hand made. I started with the shell and used cardboard and a thick 2 inch sheet of floral foam cut in oval shape of shell and placed flat piece of cardboard on bottom and on top cut the oval piece of cardboard into hexagon shapes and glued back together but bending each piece to give a rounded shape.. then I covered it all in light weight air drying clay and sculpted the clay to look more real. Then painted it all by hand. The hat was made from an actual fedora of my sons I did papermache over the main piece, once dried I used clay to sculpt the face and used a christmas ornament cut in half for each eye and glued it on, and then used clay again for eyelids etc. I then to finish it hand painted it all. The underneath pant and shirt were hand sewn. Then the flippers I formed the main structure out of thick foam sheets, then glued the same material as shirt and pants to flipper and sewed the edges closed. I attached each flipper to shoulders and hips by sewing at top. Then on arms I attached elastic bands at elbow and wrist to the arm flippers so it looked more lifelike when moving.

I also created his wagon all out of cardboard and duct tape then spray painted it all. I made red coral out of spray insulating foam and then painted. And attached to wagon. I also made light up jelly fish out of plastic painted bowls painted and used strips of plastic table drapes and stretched little areas on each strip to make them look more real.