Spyro the Dragon Costume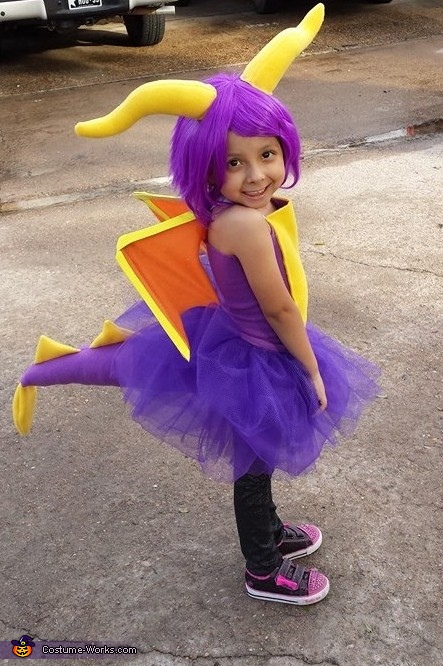 Spyro the Dragon
More views:
(click to enlarge)
A word from Kimberly, the 'Spyro the Dragon' costume creator:
This year, my daughter wanted to be Spyro the dragon from the Skylanders game. I was just going to buy her costume but I waited til Tuesday to go buy it and the store had none. I didn't want to disappoint her so I went home and ordered a purple wig with one day shipping and started planning. Wednesday night, I went to Walmart and bought 2 fleece throws and 3 yards of tulle and got to work with my sewing machine and glue gun. The wig arrived just in time on Halloween afternoon so it miraculously all got finished!
The wings were made with an orange fleece blanket, two wire hangers, and some craft foam all hot glued together. The wings attached with elastic to the front of the top and the base glued to the back. The top was just a tube with a yellow strip hot glued to the front. The tail was attached with an elastic band around her waist. The tutu tied on with the opening left for the tail. The horns were fleece and sewed into the wig.
In total, it probably cost about $30 with $20 of it going towards the wig.