Springtrap & Nightmare Freddy Costume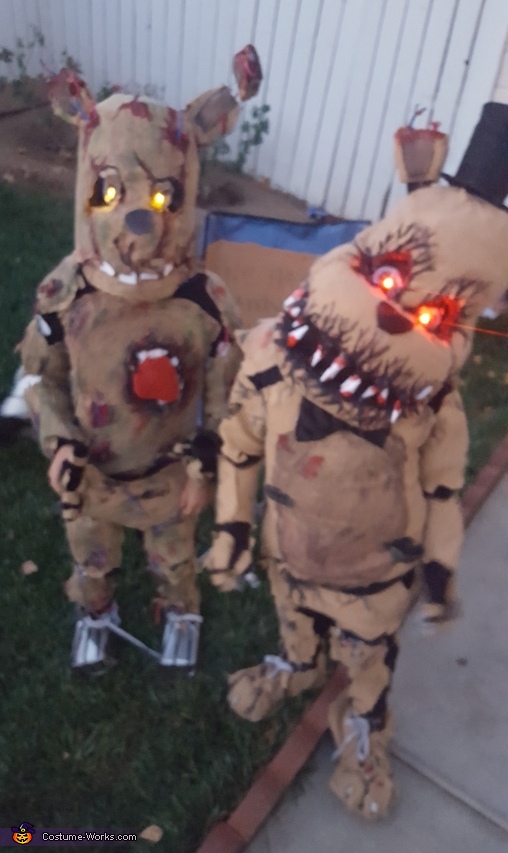 Springtrap & Nightmare Freddy Costume
More views:
(click to enlarge)
A word from Elizabeth, the 'Springtrap & Nightmare Freddy' costume creator:
Wearing the costumes are brothers adrian (spring trap) and andrew (freddy). These boys are only 5 & 6 years old gamers. Who had their hearts set on becoming spring trap and nightmare freddy from the game five nights at freddy's. The costume heads were made with foam, fabric, hot glue and acryluc paint for detail. The jaws were attached with elasti which makes them moveable. Spring traps ears are wore with foam and fabric for detail. Freddy's ears are plastic spoons covered in foam and fabric. The eyes are disassembled plastic candles and a sheer nylon. Both teeth are made with card stock and paint. The bodies are sweat pants and shirts with fabric paint and wire for detail. Springtrap sweats had a skeleton puctures on them and his heart was made with foam.
The reaction we had from people this galloween was amazing, this is why I'm entering in this contest. Some kuds cryed some screamed, but others wanted pictures with themy and could believe how awesome these costume were. As we handed out candy some people actually thought they were fake. N even after they moved couldn't believe it..it was awesome!