Spongebob Squarepants & The Krusty Krew Costume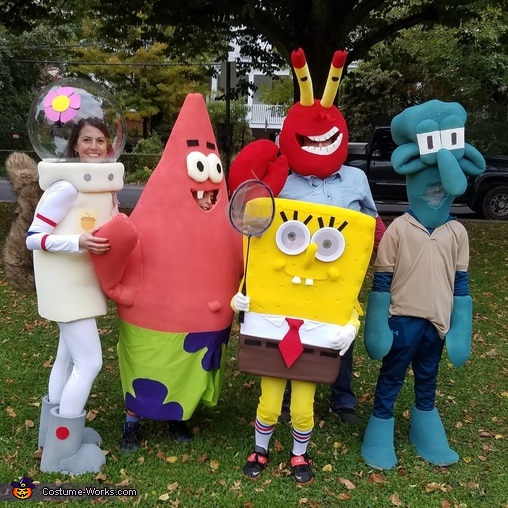 The Krusty Krew
More views:
(click to enlarge)
A word from Michelle, the 'Spongebob Squarepants & The Krusty Krew' costume creator:
Our kids are huge Spongebob fans so our family chose to be Spongebob Squarepants and the Krusty Krew for Halloween. We handmade all of the costumes using common household items. All five costumes took about two months to complete.
Spongebob:
The base is a box that we covered with cheap mattress foam purchased from Walmart ($14). We used a hot glue gun to shape the foam and spray painted it yellow. We covered the bottom with material and used felt to make a tie. His net is made from a badminton racket and netting.
Squidward:
Again we used cardboard and mattress foam to make the head, hands, and feet. We spray painted it teal. He wore real sweatpants, a real sweatshirt, and a tan collared shirt.
Patrick Starfish:
We used mattress foam and a hula hoop to make the shell of Patrick. We bought remnant fabric for the shorts.
Mr. Krabs:
We used mattress foam and pipe cleaners to make the head and claws. We bought an extra large jean shirt and placed a fake foam belly on the inside of the shirt for a rounder effect.
Sandy Cheeks Squirrel:
This was a tough one. We used foam for the shell of the space suit and made a cardboard zipper. The helmet was tough. We bought an acrylic dome light and enlarged the opening. Then we made a cardboard base so it could rest on the shoulders. A small fan was attached to foam tubing so their was an air supply and the globe didn't fog up. The boots are also made out of foam, spray painted gray and placed over sneakers.