Space Kook Costume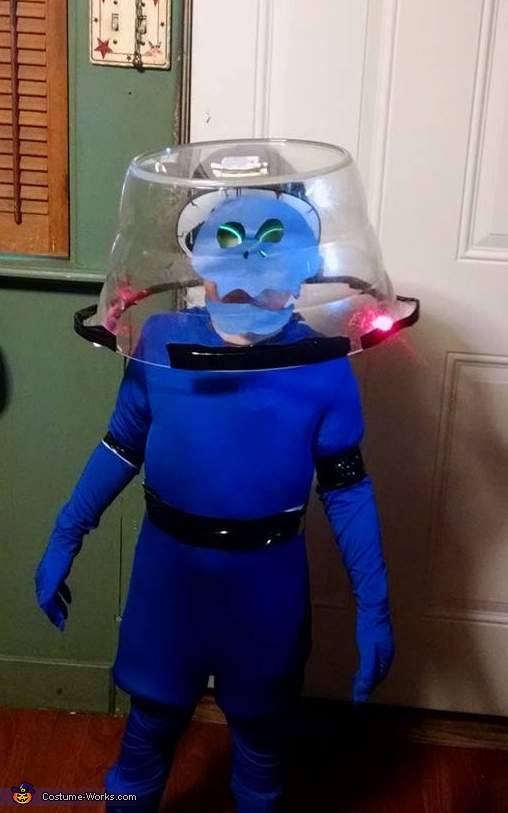 Space Kook Costume
More views:
(click to enlarge)
A word from Melissa, the 'Space Kook' costume creator:
My 7yr old boy Billy Salsgiver is wearing a Space Kook costume,a Bad guy from Scooby Doo.
Simple homemade costume,my family decided to do Scooby Doo villains.
First to make look a little more bulky put on heavy sweatshirt with long sleeves to push up. Then took some pieces of inside of cushion ,made two strips to wrap around each knee ( made to look like bulky astronaut type uniform). Put on rain boots next. Then took a all blue morph suit and put it on over the boots and everything else. Took black duct tape and wrapped a piece around each elbow and around the waist. Also used the duct tape to make black boot bottoms. Now for the helmet we used a oval shaped punch bowl , put black duct tape pieces on two handle sides and a piece on front and back side. On inside we clear duct taped a blue construction paper made skeleton face with a $1 store bought glow stick lighted skeleton eye mask (to get eyes lighted up), to match where Billy could see out (making it look like he has a skeleton face). Also took a long wrap around type book light and taped it around bottom inside of helmet ( one that we could put a red light shining the inside of helmet up). Cheap and simple ,but still a winning costume.