Sophisti-CAT Costume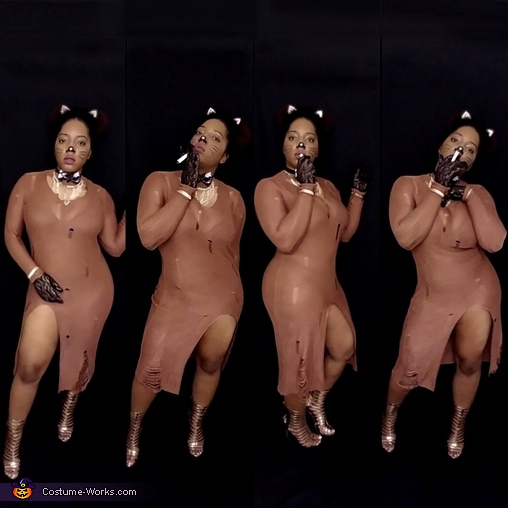 Sophisti-CAT
A word from Bri, the 'Sophisti-CAT' costume creator:
My costume is a twist on the regular feline. I call this costume
"Sophisti-CAT"
This is a more unique adult take on the typical cat costume idea. This costume has a jeweled out, sophisticated, bad kitty vibe to it, hence the name "Sophisti-CAT". I also decided to photograph this on a black background to give this costume a partial Alice in wonderland CHESHIRE CAT feel which was part of my inspiration for this. The black background to me makes it seem as if im popping out of the shadows like cheshire would.
I Bri am both the photographer,and person wearing this costume in the picture. The idea came from me as I sat around thinking how could I make a more sexier, yet sophisticated approach on the ordinary cat costumes. I put this together with my imagination, and the plan to be EXTRAORDINARY. Everything I have on to make up this costume are from different places. My shoes were ordered online.
Cat ears, bow tie, and jewelry was purchased @ my local Wal-Mart
Lace gloves were from my local party city.
My tattered dress was something I have had in my closet for a while that I added more tears and distress to from the already existing ones for a more grunge bad kitty feel.
The fake cigarette was just a lipstick tube.
In total my original costume totaled just under $100 u.s dollars which is great for some unique, homemade, and one of a kind.