Sonic & Tails Costumes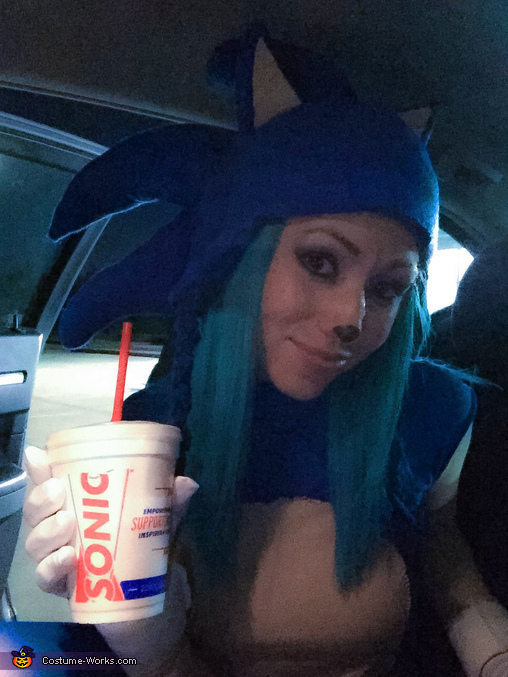 Sonic at Sonic lol
More views:
(click to enlarge)
A word from Sara, the 'Sonic & Tails' costume creator:
Growing up in the 90's, SEGA was all the rage. Sonic and Tails was the most addicting game, right?! I feel everyone can point out the characters from a mile away and smile with nostalgic joy. My daughter is 2 1/2 years old....too young to understand our costume now, but I know ONE day she'll realize how cool we were :)

I hand-sewed all the pieces to our costume. Nerdy grandma style, holding a needle and thread with my glasses at night. I don't have a sewing machine, which I'm sure would have made my life easier. The only pieces that were store-bought without extra crafting are the white gloves, the blue shorts, our leggings, and sonic's tan undershirt.

How did I make it?
Sonic Hat: Blue fleece fabric from Joann's. Spikes were stuffed with cotton for support. Ears have 2 layers of card stock inside with cotton to keep them pointy. Braided bundles of yarn for ear strings.

Sonic hair: It's not a wig, I actually dyed my hair blue.

Sonic shirt: It started from a long sleeve blue shirt. I cut the sleeves off and used those sleeves to sew back onto the neck (turtle neck style). The stomach is from silky tan material from Joann's. The undershirt was a goodwill find for a couple bucks.

Sonic shoes: I had an old pair of DC skater shoes and covered them completely with red & white duct tape. The buckles are made from cardboard, wrapped in yellow duct tape.

Ankle & wrist cuffs: I got a long sleeve turtle neck kids shirt from Goodwill. Cut off the sleeves, rolled them up, stuffed with cotton, then sewed together. Same process with wrist cuffs for both costumes.

Sonic Leggings: Party City
Tails Leggings: We love colors gymnastics website
Gloves: Amazon
Tails leotard: We love colors, then made a fox chest pattern from white fleece fabric from Joann's.

Rings: foam rings from Joann's, spray painted with foam-safe spray paint in metallic gold.

Tails hat: Gold and white fleece fabric. Layers of card stock paper for pointy ears. Twisted yarn strings.

Tails' Tails: I found a fuzzy yellow-gold scarf at goodwill. I created a tail pattern and stuffed it with cotton. Then I took a couple wire clothes hangers, bent them into place so the tails are perky.

Tails belt: I made a yellow elastic belt with a buckle to attach to the tails, so she can take them off and on easily when we drive with the car seat.

Tails shoes: I found a pair of all-white Adidas at goodwill. Used red duct tape to complete her look

Photoshoot extras!
Backdrop: I bought 6 trifold display boards that you normally use for science projects. Gorilla-taped them together (it's stronger than duct tape), Spray painted a basic sky.

Floor drop: I bought cheap grass turf from Lowe's. The elevated stage my daughter, "Tails" is standing on is really just a storage bin that holds my shoes. We camouflaged it with grass turf and cardboard checkerboard design. Then I brought it into Photoshop to blend everything together to make it feel like we're in a cartoon scene. Added a few of the video game touches, like sparkles for the rings, and trademark Sonic finish line flag.


When we went trick or treating, so many people called out our costumes as they opened their doors and busted out laughing. It was clear they understood the game reference. Even middle school aged boys were yelling from the street "OMG Sonic and Tails"... I was kind of shocked they knew. Then I didn't feel so old. I got asked if I was her big sister haha, I said "nope, I'm just her little mom" (I'm 30 in a 16 year old's body lol..)
To follow along with the humor of our costume, I even went to Sonic fast food restaurant to order something. Sonic at Sonic! I thought it was clever. The workers were making such a big deal of my outfit and couldn't stop laughing and pointing. They said the hat should be part of their uniform on skates.