SOA Jax Dog Costume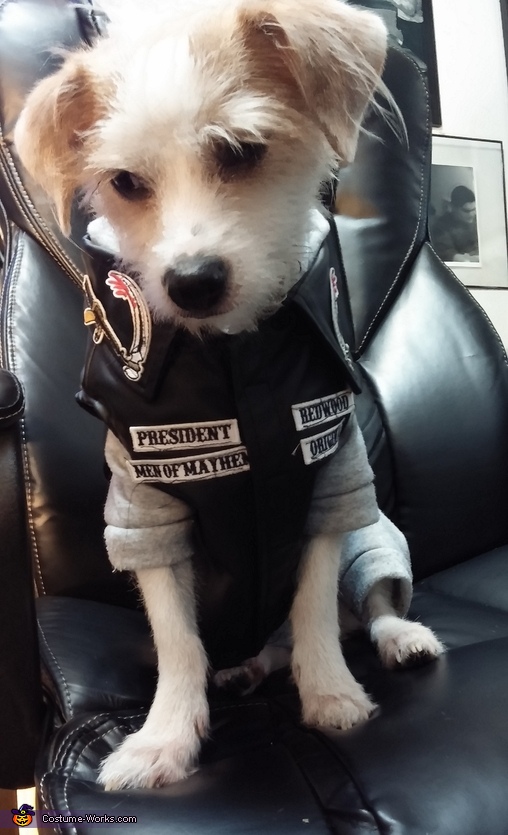 Front View
More views:
(click to enlarge)
A word from Shayne, the 'SOA Jax' costume creator:
I'm a HUGE Sons of Anarchy fan. I think it's one of the best shows out there today. In fact, my dog's name is Jax, the name of the main character. I thought to myself, since the show is ending this season after 7 long seasons on the air, I should "honor" it the best way i know how: since my dog is already named after the main character, why not dress him as the main character for Halloween!

I wanted to make his outfit as close to an exact replica as i could. Because he is a dog, i had to do a lot of measurements to make things HIS size. A person can go on eBay and buy the Sons of Anarchy patches for human-sized vests pre-made but he needed everything custom made. I was fortunate to meet an owner of a local mom & pop monogramming shop. I worked with them to find the right size for the patches (which was the hardest part because he's a small dog) and they created each "name" patch you see (albeit a bit pricey). The rifle patches on the collar & reaper logo patch on the back were bought on eBay. The reaper patch however was custom made because it needed to be larger than the typical reaper patches (an inch longer to be exact). The vest was the most 2nd most expensive part because i COULD NOT find a true biker vest for a dog at all. They were all either too fancy, overly expensive, or just the wrong size. The one i settled on looked perfect but was sized for a small LARGE dog. It had to be seriously altered (practically cut in half) to make it work but even then it was still a bit large so i worked with my mother (the "seamstress") to bring it in some in the middle on the back. If you look real close, you can see where we did this but my mother is pretty good and knew the reaper patch would hide most of it so it's not noticeable! The "hoodie" he wears underneath was something i already had for him and is part of what the character wears on the show too. My mother was nice enough to sow every thing up & down for me and it took a couple of changes but we got it where we wanted it! All in all, it took two weeks from start to finish to complete. The look of the vest with the hoodie is as close to the character as i can get and all the patches (with the exception of the "Texas" one on the back) are all exactly what the main character wears in the exact locations down to even the same type font as well.