Snoopy & Woodstock vs. The Red Baron Costume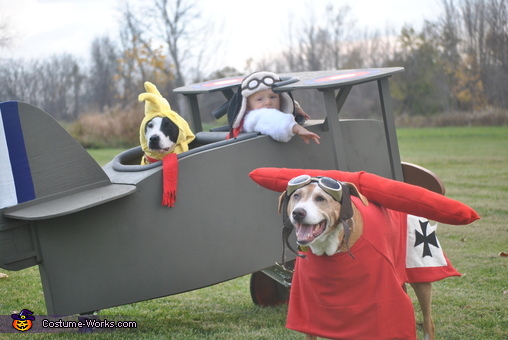 Snoopy and Woodstock versus the Red Baron
More views:
(click to enlarge)
A word from Allison, the 'Snoopy & Woodstock vs. The Red Baron' costume creator:
My one year old son loves airplanes and my father is a pilot, so I began the task of brainstorming a pet halloween costume that would include an airplane. I decided I should make a costume that resolves around the infamous "dogfight" between Snoopy along with Woodstock versus the Red Baron. I enlisted my father's help to build a plane that would seat Santo and I began the task of making the dogs costumes.

My dad had a picture of Snoopy's plane in his mind and went about creating it from scratch. He used wood for the body and included a cockpit that is big enough to fit the dog, a second cockpit for my son, a propeller that moves, and wheels that work. The wheels he used were from his 1960's soap box derby car. Once he finished building the plane, I painted it using regular flat interior paint as well as red, white and blue latex paint for the strips and circles.

My son's Snoopy costume was made by taking the body of a polar bear costume, adding a spot on the back and a tail. I then took an aviator cap and added black dog ears.

The next step was to create a Red Baron airplane costume for my dog, Ohana. I made my own pattern which mimicked a dog coat. Once the pattern was complete, I cut a piece of red fabric and sewed it together along with a strap and velro to hold the costume onto Ohana. I then began work on the design that is shown on the sides of the "plane". I cut a square out of white fabric, then traced a cross design onto black felt, cut it out and glued it onto the white square with fabric glue. I then sewed the design onto each side of the plane costume.

Next came the wings. I made another pattern and used that to sew a wing shape out of a piece of red fabric. I left a small hole on one end and inserted a dowel to ensure that the wings didn't droop. I then added stuffing and attached the wing to the coat portion of the plane by sewing a red loop onto the coat and sliding the wing into the hole.
The aviator cap was made from a pattern that I created.

I also made the Woodstock costume from scratch. I used the coat pattern to create the body and added wings and a tail which were filled with stuffing. I made the headpiece by making my own pattern.

All together I spent about $250.