Smurfette Costume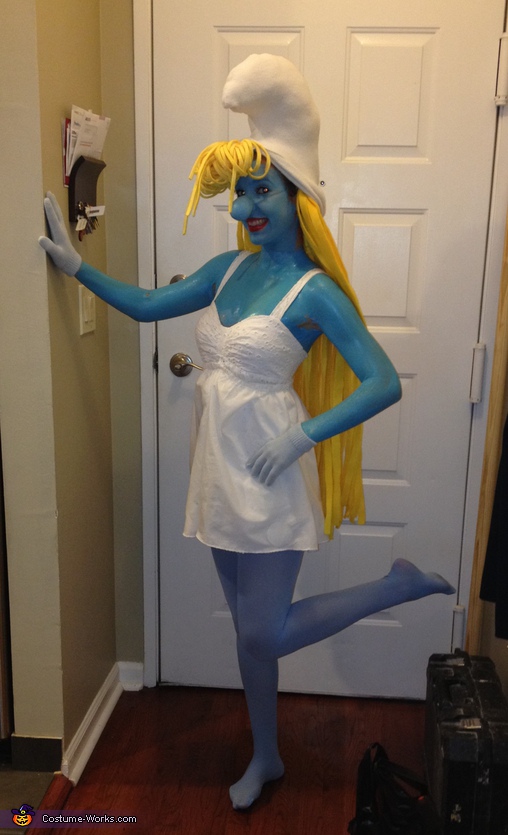 Smurfette before she left for the party..
More views:
(click to enlarge)
A word from Alysa, the 'Smurfette' costume creator:
I have wanted to make a homemade Smurfette costume for a while now and decided that it was the perfect year since the Smurf movie had just come out. The hat is made out of a stretch terry fabric (made from an old baby towel) which looks more authentic and also stretches for a better fit than felt (make sure to stuff the hat with cotton gauze material that can be bought from any craft store for $2). The front of the hair is from a microfiber mop and the back of the hair is yellow felt that was glued together and than cut to add more thickness (total less than $6 for hair). I owned a white dress and loosely sewed a white apron over and treated with starch spray for more volume, which I later realized wasn't really necessary because my hair weighed it down anyway. I added white iron on patches ($2) that I cut into circles and ironed on across the bottom of the dress, for accuracy, but I'm not sure if anyone even noticed them. The tights were 12.00 and bought from We Love Colors. The arms, neck and back are liquid latex and was a mix of blue and white (approx 2:1 white to blue ratio). The liquid latex was expensive but I also overbought not knowing how much I would need and having to buy two colors to mix- for 14.00 each a blue and a white 16oz container would have been more than enough. The nose and cream face paint were purchased from amazon.com for 2.99. I wore cream heels that I owned because I didn't want to spend the money on white shoes and the gloves were old white ones dyed with Rit dye. Also, make sure you have a BRIGHT pink lipstick to add on- otherwise the blue face paint is a little scary!!
For anyone interested in Handy Smurf's costume, his turtleneck and gloves were dyed from white using Rit dye and tool belt was bought from HomeDepot for $40, which I thought was expensive but Handy insisted he needed one anyway. I am sure a cheap tool belt could be bought from a children's toy store or Halloween store. The overalls were white scrub pants (from a previous costume) with felt attached to the top for the "overall" look. Luckily, the tool belt hid the seams so the felt could just be pinned in and the straps were made from a white karate belt. The hat was made from felt and an painters hat was put underneath (again, make sure to use that stuffing!).