The Simpsons Family Costume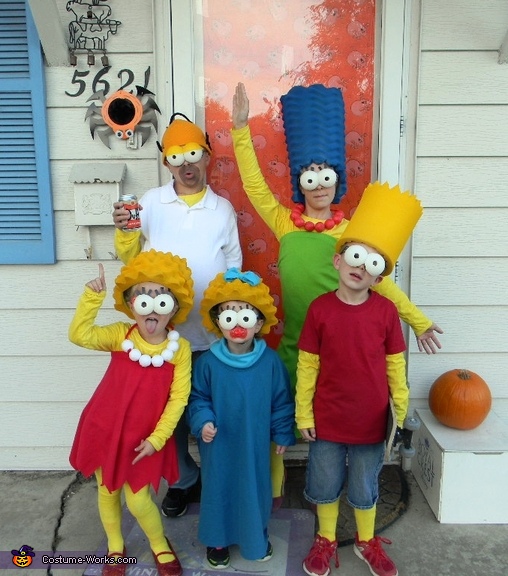 My silly kids..
More views:
(click to enlarge)
A word from Aubrey, the 'Simpsons' costume creator:
I have 5 children, and every year we do a family themed costume. This year, however, their ensembles were almost entirely homemade, and I think I nailed it!

I started out looking for yellow tights and long sleeved shirts, and boy did I search high and low to no avail. So I decided to buy everything in white and DYE IT! It was my first dyeing project ever, so I was thrilled with the turn out.

Next came the eyes. I wanted them to be removable, yet look goggly (ie. no face paint as I have little ones, and what a mess that would be!) So I started with styrofoam balls, cut them in half, chiseled them down to the right shape, hallowed out the eyes and attached them with hot glue to cheap dollar store glasses that I had punched the lenses out of. I then used the discarded lenses to fashion the eyelashes for the girls. Homer's eyes still looked a little off, so I spray painted eye lids onto the top of the 'eyes' and that made all the difference.

Their necklaces are also made of styrofoam which I modge podged with tissue paper to make them stiff and also the right color and threaded them with pipe cleaners for the chain.

Next was the hair. I gathered some discarded or unwanted foam mattress pads from friends and family. Lisa and Maggie's hair was a bit tricky because I wanted them to be round, and spiky, yet removable as they were for my 2 and 4 year old. I used dollar store army helmets, and cut the egg crate foam into one large hour glass shape, and two smaller roundish shapes using a baseball as my inspiration to make something flat look round. Spray adhesive worked well for that project. I then spray painted them yellow, and took some of the fleece fabric I had to make a bow for Maggie and hot glued that on the 'helmet'. Marge and Bart were both done using poster board which I fitted to my childrens heads then stapled to secure the shape. I then spray glued the foam to the poster board cylinders and used scissors to shape them once they were secure. After they were shaped, I used several coats of spray paint to achieve the right color.

Homer had a padded pillow to make him look fat, and I just used some brown eye shadow and eye liner for his beard. Their outfits were made mostly from fleece I purchased, and then sewed. Some of their clothing we had lying around, like Bart's jean shorts.

We are thrilled with how they turned out, and that my first homemade costumes worked out to be the spitting image of the beloved yellow family we all grew up with; The Simpsons!! We hope you love them as much as we do!