Shrek and Princess Fiona Costume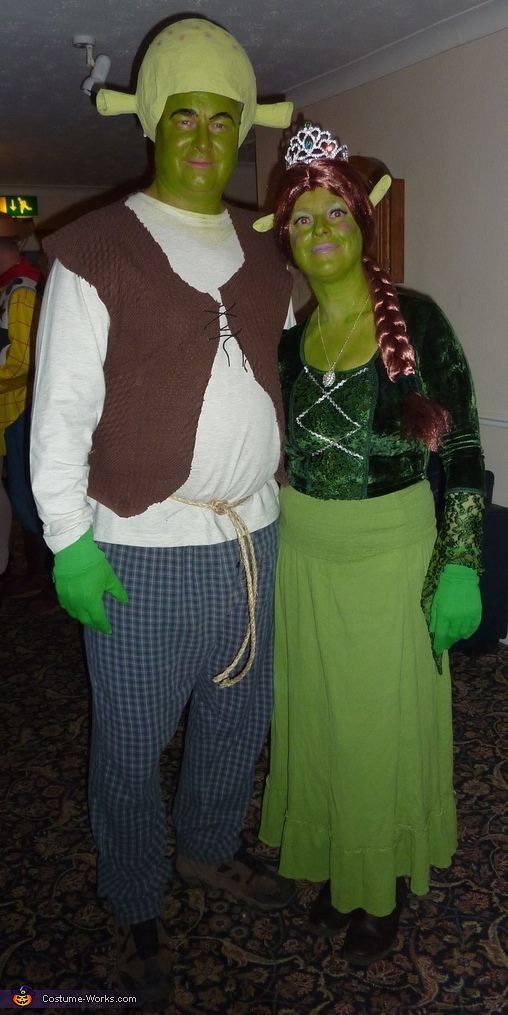 Shrek and Princess Fiona
A word from Jen, the 'Shrek and Princess Fiona' costume creator:
Hi there Shrek fans! Greetings from England...we love Shrek over here!
My husband and I decided to go as our favourite kids characters to a movie theme party.
Shrek's head topper is created using a balloon base for paper mache layering up the newspaper and glue over a week building up the layers. The ears/horns were made by shaping toilet roll cardboard and padding out the ends with bubble wrap taping to the main head/balloon and covering with two more layers of paper mache.
The Shrek vest was made from an old blanket using string and shoelaces to tie sides and front. You can find instructions for kids basic shape on the net so just adapt to adult size. Trousers were old pair of pj's from thrift shop. Tunic was basic cream from the store.
Princess Fiona top and skirt from thrift shops. Wig from store then added paper mache ears/horns similar to Shrek's but smaller and attached to wig with electric ties. The crown also attached with electric ties. Zig zag criss cross on front of dress just sewn on to give medieval effect.
Cheap green gardening gloves from the pound store.
Covered in green face paint. Boots were our own.
We had a fantastic evening as Shrek and Princess Fiona and will be using these outfits again in the Autumn for our Halloween celebrations as husband is from New Hampshire, USA and we love to celebrate this tradition!
Cheerio from the UK! :-)