SeaWorlds Manta Roller Coaster Costume Water Shooter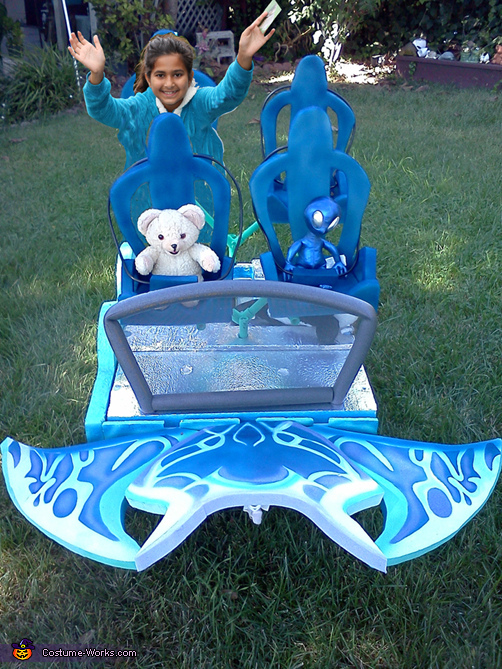 My Friends Daughter In the Manta Costume
More views:
(click to enlarge)
A word from Richard, the 'SeaWorlds Manta Roller Coaster' costume creator:
My Idea came from my friendís daughter who loves SeaWorld in San Diego Ca. This was a new ride that just opened in May 2012. My friendís daughter loved the ride so much I constructed replica of the ride. This costume was a hit at SeaWorldís Halloween Spooktacular.

This costume is constructed from: Thin wall pvc pipe pvc pipe connectors to make the frame, Styrofoam sheets for covering the frame and making the wheels old cds for the outside of the wheels, Rubber inner tube on the wheels for an authentic look, wooden dowels and glue to attach the foam on the frame, upholstery foam for the seats and the Manta figure. This Manta features a water shooter made from flexible tubing and sprinkler valve run with 2 9 volt batteries and a push button switch. This manta shoots water approx 30 ft with a swoosh sound. Manta was Air brushed on frame and the manta figure. Cost was about $40 not bad for a unique costume. Took me about 210 hrs to build and test.