Homemade Scorpion Costume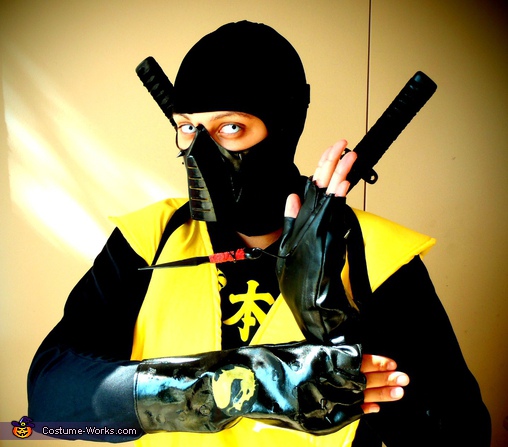 Homemade Scorpion Costume
More views:
(click to enlarge)
A word from Samantha, the 'Mortal Kombat Scorpion' costume creator:
I started working on this costume in June, ordering various pieces from Ebay and Amazon. The armor is shin guards modified with spikes, skulls, and spray paint. I took studded gloves from a halloween store, removed the studs, added spikes on the knuckles and spray painted the mortal kombat symbol. I'm wearing a ninja suit from Amazon, with home made tabards over it. The mask was an airsoft mask I ordered from Ebay. I removed the attached goggles, added spikes, spray painted it black, and painted the inside of the mouth holes yellow. The ninja swords I purchased from a Halloween store and the balaclava from amazon. I'm also wearing a studded belt, skull buckle, and scube diving booties.
The part I had the most difficulty figuring out was the kunai dart. I ended up ordering plastic darts from ebay and attaching one to gardening wire. I was able to wrap the wire around my wrist inside of the glove and slice a hole in the glove for the dart to come out. Lastly, the contacts I was able to order online. This is one of four costumes I have been working on since June for a group of friends all going as Mortal Kombat characters.