Scary Angel Statues Costume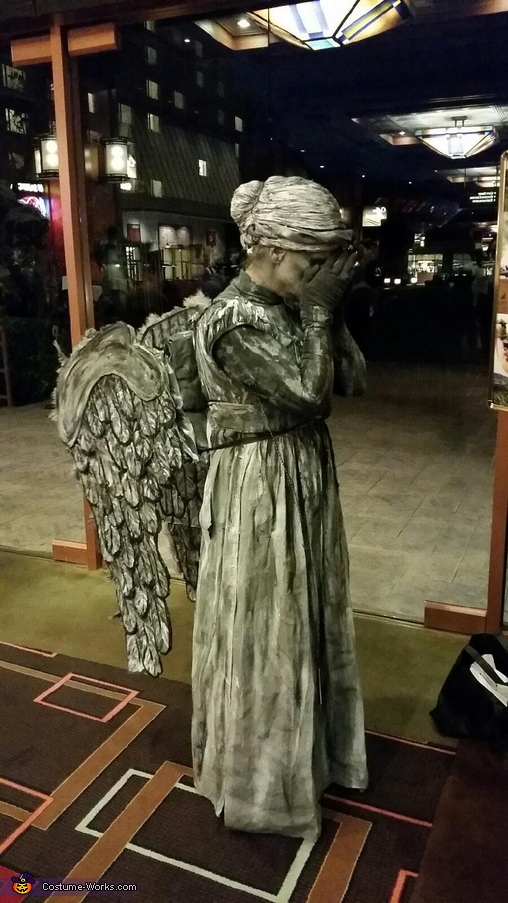 dress rehearsal
More views:
(click to enlarge)
A word from Donna, the 'Scary Angel Statues' costume creator:
I spent several months making these costumes for my friend Theresa and me. I bought a couple long dresses from thrift stores and put several coats of cheap black, gray and white paint. Using cheap brushes and my fingers, I painted vertical stripes until the dresses were very stiff and had the look of concrete that I wanted.
For the hair, I put a skull cap (made with old pantyhose), put it on a styrofoam wig head and glued long strips of gray yarn to the skull cap until it was completely filled in. I then painted the yarn with black, white and gray paint to match the dress. I wound the yarn into buns at the nap of the neck and hot glued it into place. I painted strips of fabric to match the dresses and to use as head bands to help hold the yard wigs on our heads.
To make the wings, I used 2 large pieces of cardboard per wing, cut out in shape of wings and painted them gray on both sides. put the second, bottom side of the wings aside for now. To make the feathers we used thin foam sheets from any craft store, cut out feathers and finger painted each one.
To attach the wings, I made 'backpacks' by cutting heavy duty cardboard into two squares the size of our upper backs. the I glued 2 long pieces medium gauged wire, centered across the square about 3 inches from the top and bottom. wire has to be long enough to extend to the outer edges of the wings. I made a soft thin pad using old sheet and batting that goes on the inside of the square against our backs. I glued the pad to the non-wire size of the square, and the covered the wire side with the second card square. Next using gray duct tape to run the wire about 2 inches around the inside perimeter of the inside of the bottom wing. This doesn't have to look pretty, but needs to be sturdy and strong. I glued the top wing, feather-side out to the bottom wing cover up the wire, I glued suspenders the the square back pack and clipped them to the leggings I wore under the dress.

I painted long sleeved body suits, gloves and ballerina shoes with same white, black and gray paints to match everything. I watched make up tutorials for doing statue makeup and did the best I could.