Scarlet, Herb "Blurb" Overkill and Bob the Minion Costume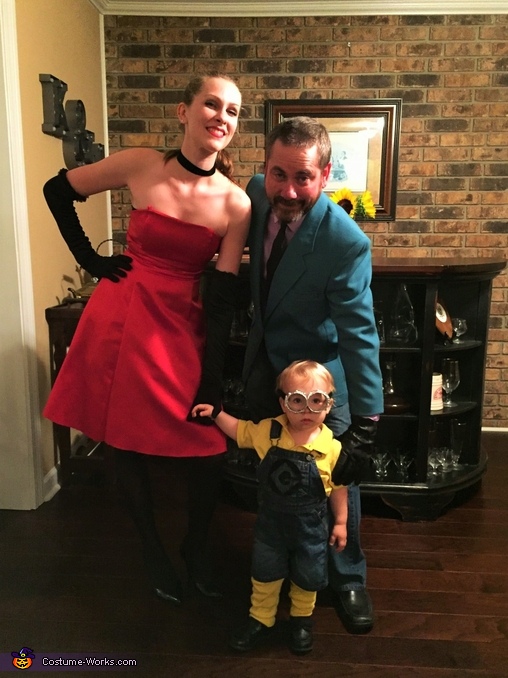 Scarlet and Herb Overkill and Bob the minion
More views:
(click to enlarge)
A word from Emily, the 'Scarlet, Herb Blurb Overkill and Bob the Minion' costume creator:
Mom, Dad, and toddler:
We watched the Minions movie quite a few times this year and our son LOVES the minions, so we thought it would be fun to dress up as a family for his first trick-or-treat.

About 90% of the clothes for the costumes came from secondhand stores. The red dress was a floor-length gown that I cut to knee-length. The black hood worn by Herb ("Blurb" from the "torture" scene in the Minions movie) was cut from a garbage bag. The G logo was cut from felt and sewn on the overalls. (The minions don't have this logo until the Despicable Me movies, but our story was that we "minion-napped" him from Gru!) To make the goggles, I cut a cardboard tube and glued them together. I glued beads around the tubes and added two strips of felt to the sides. I wrapped them in foil and sewed on black velcro to hold the straps together... voila! He loved them so much he actually wore them ALL NIGHT! Everyone out trick-or-treating said we looked just like the movie characters. He may not have been the only minion out there, but he was definitely the most original!