Scarecrow Roxie Costume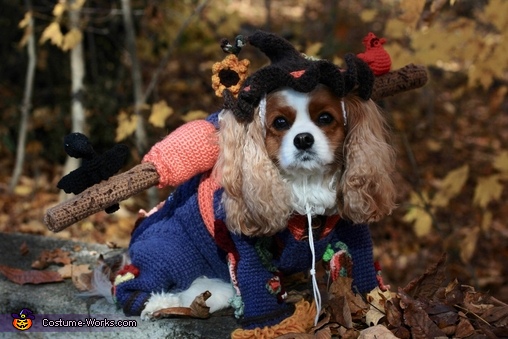 Scarecrow
More views:
(click to enlarge)
A word from Kori, the 'Scarecrow Roxie' costume creator:
Hi my name is, Roxie Georgia-Belle and I'm a 7 year old, Cavalier King Charles Spaniel. I was born in Cumming, GA but I live in Indiana with my Human parents, that love me very much as I also love them. My Human Mommy, designed,100% handmade and 99.9% without a pattern this original crocheted Scarecrow outfit. It took my Human Mommy 2 months to create. Funny.....I don't ever remember scaring anyone in this Scarecrow attire or for that matter, at all!! My Human Mommy takes me to senior living homes, rehab centers and shopping dressed up, which always makes the people smile, pet and hug me. It makes my tail wag because it's so much fun for all of us. My crocheted Scarecrow garments have 47 randomly made leaves, one Black Crow Bird, one Red Cardinal Bird, one sunflower, one stick and 3 knitted pockets with "Bead Bling."
Scrape yarn was used for shirt, hat, leaves, straw, both birds and the sunflower. The denim overalls yarn was purchased for $5.32.
How did I come up with the idea? The Fall season is so beautiful and Scarecrow's are cute and I have wanted to create a Scarecrow costume for many years. Since I did not have a pattern and started to learn crocheting last April 2017, the only tip I can share is...."Just start learning to crochet and knit!"