The Saw Family Costume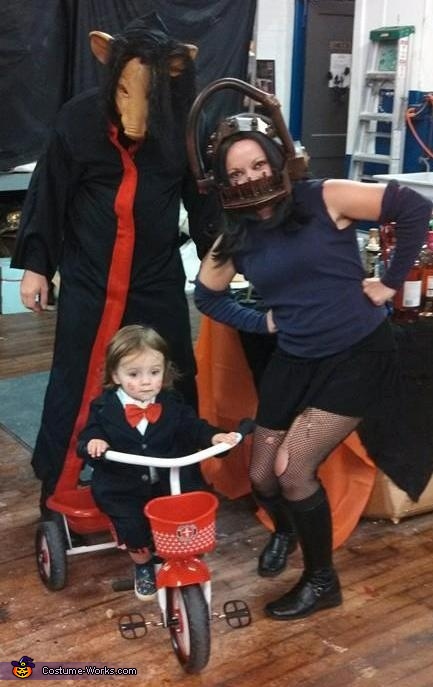 The Saw Family
More views:
(click to enlarge)
A word from Liz, the 'Saw Family' costume creator:
We like to do a group costume as a family (last year, we were pirates, and he was an octopus we found in the ocean) My husband and I *Love* horror movies, and it seemed adorable to dress him up like the puppet from "Saw". I know that's not an age appropriate movie for him to watch (and he hasn't) but I always joke that when I was pregnant with him, he was always the most active while we watched "The Walking Dead" - so I think he is destined to like horror movies, like his parents. Hopefully he doesn't grow up to resent me for this photo!
Husband's costume - a goodwill purchased robe, felt for the trim. Pig mask was from ebay ($13)
My costume - goodwill purchased top, sleeves cut off and tied up with old shoelaces, goodwill skirt, stockings and boots I had. The head trap was made entirely of a cardboard diaper box that I carved up with an x-acto knive and used hot glue/tape to construct. Additional pieces were random garbage items I found around the basement like a tube, some drywall screws, and electrical caps. The mask is nearly entirely garbage!
My son's costume - the tricycle he already had, the suit jacket is from target, the bow tie I made out of the same felt used on my husband's robe (couldn't find a red bowtie anywhere!) His shirt was goodwill, and his makeup was a non-toxic lip liner.
The minute we walked in, the host of the party (a friend from college, who now does special effects for a living) said "That's it, everyone go home! Liz just won Halloween..."
I am not in special effects, I just like arts and crafts, so I was very flattered that someone who does this for a living said that!