Russell and Carl Fredrickson from Disney's Up Costume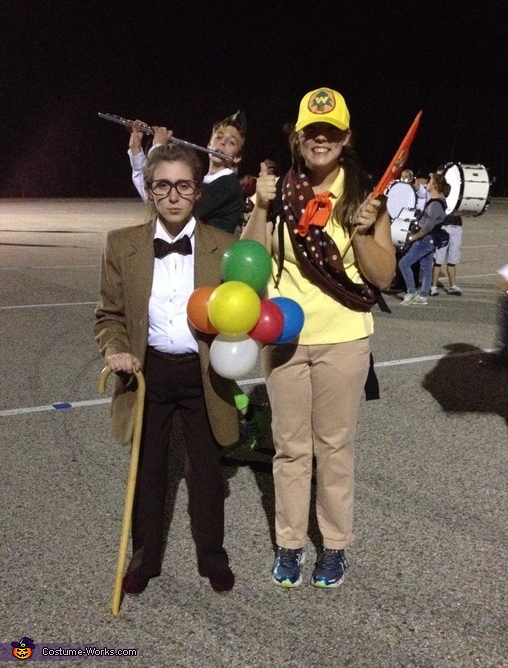 Atfter band rehearsal
More views:
(click to enlarge)
A word from Alaina, the 'Russell and Carl Fredrickson from Disney's Up' costume creator:
In our high school band, we have a marching rehearsal on Halloween and we all dress up. Our flute section chose to have a Disney theme. My friend, who also is a flautist, wanted to be Russell the Wilderness Explorer from the Disney movie Up. After talking to me, she convinced me to be Mr. Carl Fredrickson.
She bought her yellow polo and yellow cap and orange scarf from a local thrift store ($3.50), made her flag from orange fabric ($3 from Walmart), printed the wilderness logos off of a computer (free) and attached them to her hat and flag. Lastly, she used brown fabric ($3 from Walmart) for her sash and printed out small Boy Scout patches off of the internet and glued them to the fabric. She already had her pants and backpack. She found little knickknack things at the dollar store to attach to her backpack at $0.99 a piece.
For my outfit, I went to a local thrift store and found the suit coat, pants, and tie for $1.50! My mom pinned the tie and created it into a bowtie and put a rubber band through it to attach it to my shirt. We used a button up white shirt with a collar (already at my house) to go underneath the suit coat. We blew up different color balloons ($1--dollar store) and attached them by string so I could easily hold on to them. Also, my drama teacher at school had a cane that she let me borrow for free. I used baby powder to turn my hair white ($3.29 at Walgreens). Lastly, I used glasses that I had at my house from my local movie theatre (when they give you glasses to see 3D movies) and just popped the lenses out. (Free)

Russell overall cost: $12.37
Mr. Fredrickson overall cost: $5.79

Ta-Da!!! Russel and Mr. Fredrickson are complete :)

Thank you for your consideration!