Rocket Costume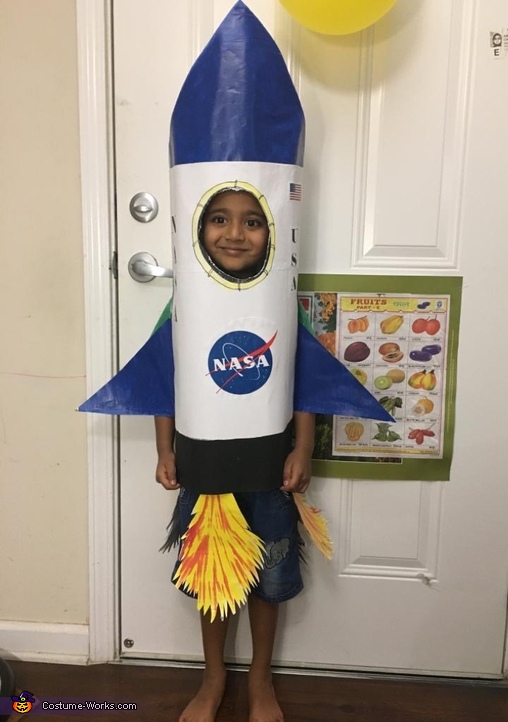 Original Picture
More views:
(click to enlarge)
A word from Archishman, the 'Rocket' costume creator:
The costume is for my son whose name is Archishman Chakraborty. He is 4 years old. Rockets and Trucks are his favorite. Every year I usually make his costume. It is part of our mommy-son craft time.
Materials used :
Discarded Letterhead paper at the printer - recyclable bin.
Cardboard -poster boards that were discarded
Acrylic Color
Paintbrushes
Print outs of NASA logo, USA writing, and NASA writing
glue, sellotape, scissors
velcro

How to?
We used poster boards and glued Letterhead papers to it.
poster board.colored two poster boards blue to cut out the wings and the top portion.
Colored and cut out fire streams ( 4 ) of them.
Main Structure - It is two A1 size poster boards stuck together.A4 papers glued tp it.
Accessories - taped the wings, top, and fire cut-outs to the main structure. Glued the fire cut-outs to the base. Colored the bottom of the main structure black.
Pasted the cutouts for NASA logo, USA flag the letters NASA and USA.
Attached velcro at the back.
Made cut-outs on the main rocket structure for the face and hands.