Roadrunner & Wile E. Coyote Costume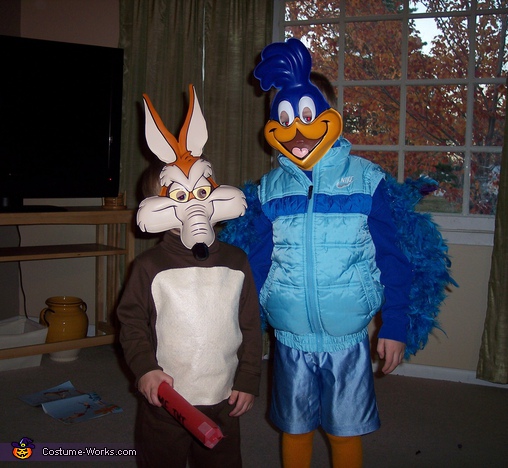 The Roadurnner and Wile E. Coyote
More views:
(click to enlarge)
A word from Kerry, the 'Roadrunner & Wile E. Coyote' costume creator:
My five year old son is dressed as the Roadrunner from Looney Tunes and his littel 2 1/2 year old brother is Wile E. Coyote. My 5 year old loves Looney Tunes and he suggested the idea.
For the coyote, he wore a brown turtle neck with a piece of tan felt stitched to the front. He also wore a pair of brown sweatpants with a tail attached. He is carrying a homemade stick of ACME TNT.
The roadrunner is wearing yellow soccer socks with light blue shorts. He has a blue long-sleeved shirts on with a light blue vest. I took a boa and cut it apart and pinned it to the sleeves of the shirt. For the tail, I took 2 blue feather dusters, a turquoise feather, and a purple feather. I used blue duct tape to attach them together. Then, I duct taped them to a belt which he wore under his vest.
The masks were purchased online.