Mermaid Captured by a Pirate Costume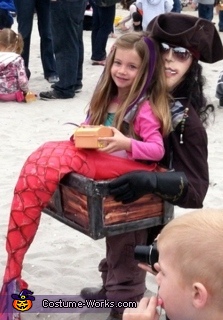 Riley the Mermaid, Captured by a Pirate!
More views:
(click to enlarge)
A word from Corrine & Riley, the 'Mermaid Captured by a Pirate' costume creators:
This is my best and favorite costume that i have made for either of my kids. For the treasure chest, I used a box, printed out some realistic gold coins and wood pattern. I attached the tail to the box, which has a cut out for her body and two thick wooden dowels on either side of her. The wooden dowels secured in to the school bag which holds the head. The pirates head is simply a mask, stuffed and attached to a hanger in the school bag, the hanger gives him his shoulders. The mermaid tail was an old shiny bridesmaid dress, that I stuffed, sewed, and decorated. Money spent was very little, I used things we already had. There was an event that we recently went to and everyone, especially kids were a little confused who was carrying Riley. We are excited to see what her kindergarden class thinks, when a strange boy walks in carrying a mermaid! Should be funny.