Riding a Roller Coaster Costume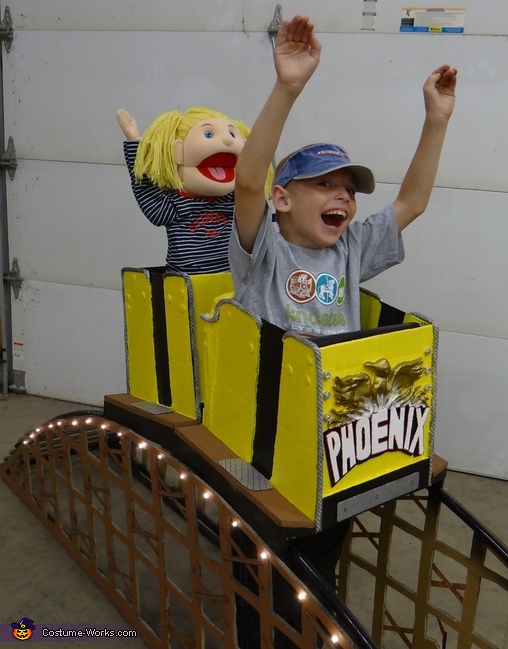 Eli Fearlessly riding the Phoenix Roller Coaster
More views:
(click to enlarge)
A word from Nicole, the 'Riding a Roller Coaster' costume creator:
Eli loves to ride roller coasters and the smile on his face as he goes up and down those big hill says it all! What a rush as he and Sally race down this lighted track! A thrill-seekers dream costume!! This home-made roller coaster was constructed from looking at pictures of Eli's favorite wooden roller coaster, The Phoenix. It is found at Knoebel's Amusement Resort in Elysburg, Pa. I used cardboard and hot glue for constructing the cars. To mold the phoenix I used air dry modeling clay, and decorated them with rope detail and bolts and nuts, before painting it. A puppet from our church children's ministry, Sally, rides along with Eli. A wire holds her hands in the air, showing her daring side!
The track frame is constructed of pvc pipe and then decorated with a cardboard lighted roller coaster track. There is a ticket booth with the model of the real roller coaster in its window, and signs for the ride and the Amusement Park on the track. The roller coaster cars attach to the track using a larger diameter pvc pipe segments, making the coaster easily moveable up and down the track. We used baby oil to keep the track running smoothly.
The track has detachable wheels and the roller coaster cars are removeable and can be worn using shoulder straps for easier trick or treating.
We topped off this costume by adding a t-shirt and visor from Knoebel's Amusement Resorts where this roller coaster is found! Eli is living his dream in this costume!! Future roller coaster fanatic!!