Regina George Costume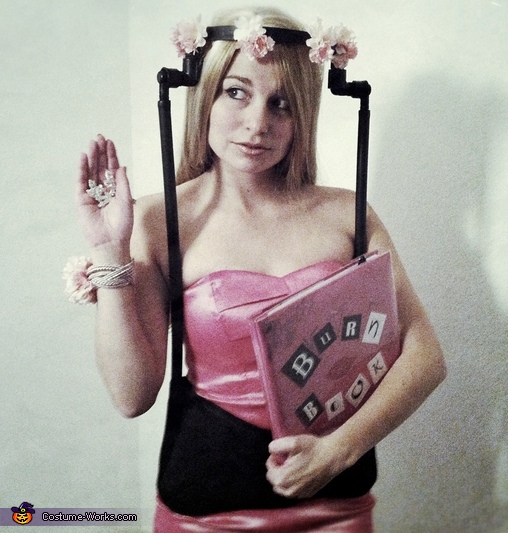 You can't sit with us!
More views:
(click to enlarge)
A word from Meghan, the 'Regina George' costume creator:
Regina George is one of my all time favorite halloween costumes. It was one of the easier costumes I've made but received the most positive reaction. The major work needed to be done at Home Depot, which I have never gone to for Halloween before! I found black PVC pipes and hooked them together. Then spray painted some metal molding that fit around my head nicely which I connected to the pipes. The fake flowers (from Michaels) fit nicely into the holes of the molding. The belt around my waste was also found at Home Depot and was a movers harness. I just put the pipes next to my waste and the harness just wrapped everything together. Then I found a pink dress online and a wig at a wig shop. The Burn Book was the MOST fun to make. I found a blank pink scrapbook and printed out the letters on the front - then of coursed kissed it with red lipstick. Then I printed out pictures of all my friends and put them in the book with some of the classic burn book phrases like "made out with a hot dog." My friend died laughing at their names in the burn book. It was a top notch costume and I will definitely wear it again!