Red Queen and the Mad Hatter Costume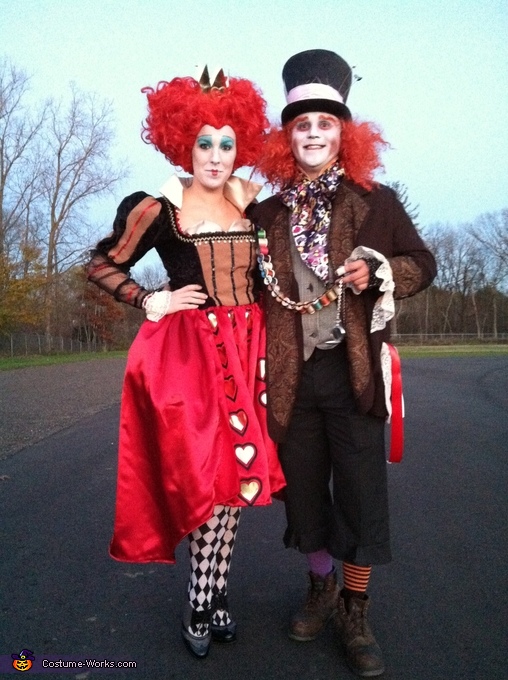 Before we entered the party
More views:
(click to enlarge)
A word from Kirby, the 'Red Queen and the Mad Hatter' costume creator:
Kirby is the Red Queen and Gary is the MadHatter from Tim Burton's Alice in Wonderland. I (Kirby) love Johnny Depp and Tim Burton's spooky spin on these classic movies he's directed. I've been begging my fiance to do a couple's costume with me for years now with no prevail - until this year! I have no idea why he finally agreed to be the MadHatter - I think he just liked the big coat and pocket watch. But I am so glad he did!

Mom hadn't seen the version of the movie yet but I found a few pictures online of Tim Burton's characters and printed them off in color. We went off to the fabric store, Jo-Ann's, with coupons and photos in hand.

My mom made my dress from scratch by combining pieces from multiple patterns and sewing after work for almost 2 weeks. The corset idea came from one outfit, the skirt from another, the sleeve from an old dress design, and then some add-ons she did on her own to make it look like the Red Queen.

She used red satin for the bottom and my brother's business pressed the gold and black vinyl hearts on the front skirt panel and lined the inside with black lace. We used tulle under the skirt and sleeves to make it puff out - I kept telling her that the Red Queen's butt needed to be BIGGER! :-) Under her skirt there are old-style underwear made of a lightweight black stretch material with ivory lace and red trim lace at the knee.

The sleeve was a stretch velvet at the shoulder, lace down the arm, and some trim pieces, with ivory lace at the cuff. It also some neat trim and pearl drop beads around my neckline with a "sweet heart" peek-a-boo piece that we decided to do last minute to make the dress a little cooler to wear last minute instead of being all the way up to my neck. We did the stand-up collar ivory satin and used the iron-on stiffener to make it stand up good.

We bought our wigs and my tights and Gary owns his Happy Socks brand socks (just wore two different ones).

Onto his costume. The majority of his things were bought at Goodwill and modified. The jacket was taken in to fit him, all the button replaced with mis-matched ones from a button box my mom had. His pants were but off and a small flared piece added on at that short hem. The vest was bought at a thrift store and pockets sewn on so that the pocket watch could be used (because they were fake pockets and that just wouldn't do!). The dress shirt was bought and the points of the collar cut off and the raw edge sewn - to be worn popped up. I bought a piece of fabric to be sewn into a continuous piece and tied into his bow about his neck. The cuffs on his shirt were removed and replaced with long vintage lace we took off an old pillow case to stick out of the jacket sleeve. And the we tore apart another jacket made out of tapestry to use on the lapel and the cuffs of the coat.

Then we ran some cording threw old spools of thread to sew to his jacket, made a pair of silk rabbit ears to hang our of his jacket pocket, and some ribbons and lace (he IS a hatter after all!) To make hat pins - we sprayed some florists' wire with spray paint and hot glued small buttons to one end. We stuck 3 of those in the silk piece of fabric we tied onto the hat we used for the Hatter's costume. We also used a card to make his 10 / 6 that was stuck in the side of that band as well.

On the day of the party, I painted my fiance's nails black, wrapped a few in white tape, and gave him a metal thimble to wear. I used white make up on his face and shaded red/rust under his eyes and on his cheek apples. Then painted his eyelids blue. I trimmed 2 pieces of the wig off and used eyelash glue to adhere them to his eyebrows and used pink lipstick on him. Needless to say - he was creepy and perfectly in character all night!

I also used white face paint on my face, blue eye shadow up past my own eyebrow, used a liquid eyeliner to draw a "new" skinny eyebrow, and a red color fat lip crayon to make my heart lips.

All in all - because I owned the make-up already, and we had the Hat, my shoes, Gary's socks, the watch... We also got our wigs for 40% online and we had hit Jo-Ann's during a sale for fabrics that were on sale 40%-60% off...

The Red Queen was $45-$50
The MadHatter was $24-$30

That money and my poor mother's sore fingers for 2 weeks of sewing after her day job. Bless her heart.

But we absolutely LOVED our costumes!!! HAPPY HALLOWEEN everyone, NOW OFF WITH YOUR HEAD!