Real Life Cabbage Patch Doll Costume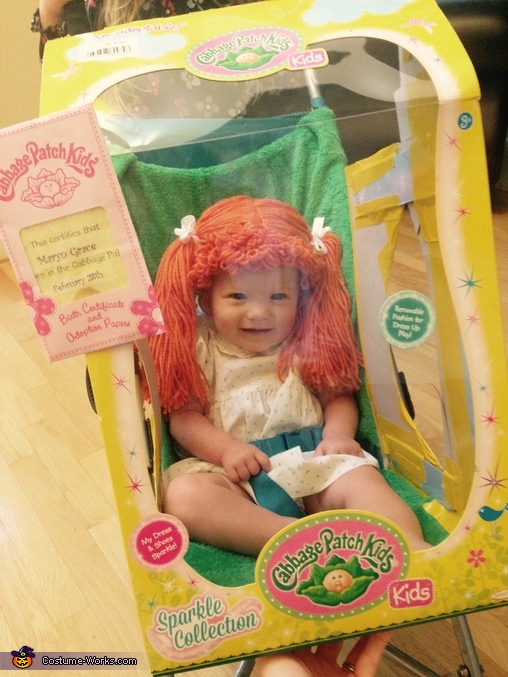 Ready to be Adopted!
More views:
(click to enlarge)
A word from Ashley, the 'Real Life Cabbage Patch Doll' costume creator:
Being a girl of the 80's, I LOVED my red yarn haired cabbage patch doll, so thought it would be a blast to turn my red hair, fair skinned baby girl, into a real life cabbage patch kid for Halloween this year. And she fit the part perfectly!

The toughest part of the costume was making her yarn wig. While I saw several super cute ones on Etsy, I was tempted to order, I really wanted to make it on my own. Only problem is I don't know how to crochet. I looked and looked for non-crocheting ways to make it with our much luck when I finally found a tutorial online on how to sew a yarn wig. So I followed the steps to make the wig (unravelling the yarn, sewing onto a piece of felt,etc) then I glued it onto one of my daughters cotton hats as wanted it to be super soft and slightly snug so she would keep it on. Once on I pulled the hair into pony tails and cut to make them even and added ribbon. Finally I made lots of little loops and glued them to the front to make bangs.

Once the wig was done the only other part to make was the box since she just wore a few dresses my mom gave me from when I was little. For the box I actually used a cabbage patch doll box from a doll my older daughter had. I cut open the back and then used yellow duct tape to make it solid and a little bigger so my 8 month old could fit behind it. I also cut arches on the side so it wasn't completely closed and made the top come to a triangle to give her a little more room. The final touches were a piece of green material for her to sit on and then personalizing her adoption papers. I used the ones from the doll we had by printing out her name and birthdate and gluing them on and colored yellow to blend in well.

When all said and done, she really did look like my original doll- it was so much fun!