Rainbow Brite Costume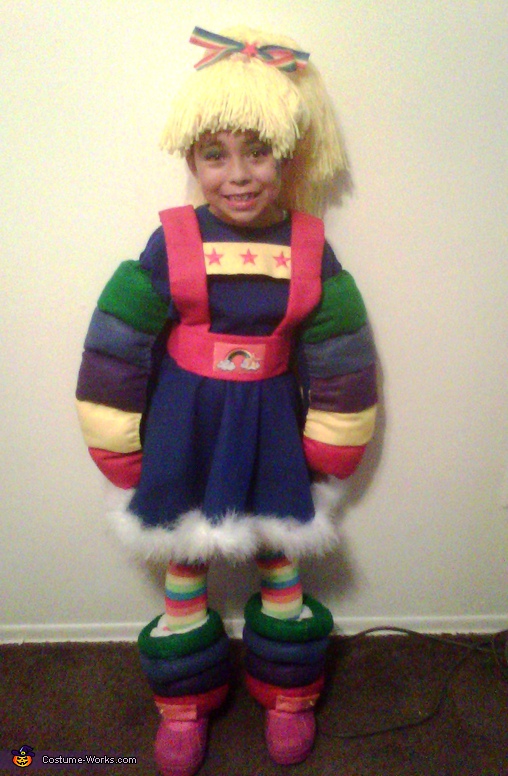 Rainbow Brite 2011
A word from Diana , the 'Rainbow Brite' costume creator:
I made this costume for my 6 year old daughter Gabriella. She wanted to be Rainbow brite so badly but I just didn't like the costumes I saw online for sale. I decided that I would take a cartoon photo of Rainbow Brite and head to the fabric store. I spent about $80 on the materials and just under a week to construct it.
I started with a blue thermal shirt as a base. I used the same color blue fleece to make a skirt. I took the fleece and cut a circle that was a total guesstamate. Then I cut a smaller circle in the middle. I used elastic to make the waist fit. Then I sewed a white feather boa to the bottom of the skirt. I used felt in the different rainbow colors to make the boot covers, arm bands, and suspender looking piece. I basicly folded over the rectangle felt pieces in half and sewed them on 3 sides. then I stuffed them with poly fill and sewed them closed. I then sewed the color pieces together in the same order as the cartoon Rainbow brite. Next I sewed them to the thermal shirt. For the boot covers I cut the felt rectangles in half and then folded the halfs in half. I sewed them on 3 sides and then stuffed and sewed closed. Then I sewed them together in color order and just slipped them over my daughter's snow boots. I used a rainbow patch and star patches for accents. Everything was totally hand sewn since I don't own a sewing machine. The wig was very tricky to make. I used a knit hat, swimming cap, and yarn to make it. First I sewed the swimming cap to the inside of the knit hat. Then I wrapped the yellow yarn around throw pillows about 30 times. I tied them off and cut them. I made about 15 of those. Then I made 3 smaller ones that I wrapped around a cd case. Those were for the bangs. After that I used a croche hook to pull the pieces through the knit hat. I tied them off on the inside. Then I pulled them up into a pony tail and tied it off with a rainbow ribbon. It did not come out perfect but I think it came out awesome either way.