Queen of Hearts and her Throne Costume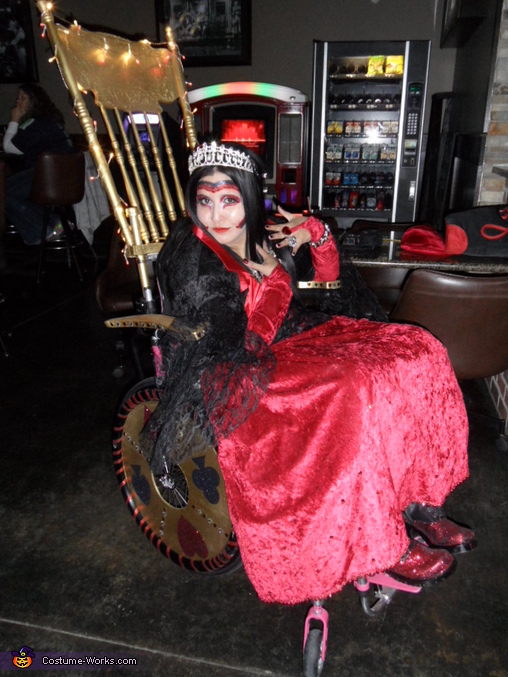 Full Costume and Makeup
More views:
(click to enlarge)
A word from Kristina, the 'Queen of Hearts and her Throne' costume creator:
I, Kristina Allen is wearing this Queen of Hearts costume that I came up with on my own. I wanted to incorporate my wheelchair and make that into a beautiful throne for that added flare and touch to the costume. I wanted a ball gown type of dress, but I was on a budget. The Queen of Hearts dresses sold online were beautiful, but a little bit out of my price range. I found this devil/vampire dress for $35 and decided to add my own embellishments to it. I taught myself to sew with the help of YouTube and learned how to sew on heart sequins and heart fringe that I bought on eBay. The dress still needed something to make it pop so I spray painted it with red glitter spray paint, and yes it does work on fabric.

The throne was made out of an old rocking chair that I found on Craigslist for $10. I had my father saw off the rocking part and he came up with the idea to secure the back using some metal pipe and sticking them in where my wheelchair handles go. He drilled two holes in the chair back and helped me find the right piping to make it secure. That way the back just slipped in and out of the chair.

I spray painted the back with gold pain Ė a couple of coats and let each side dry. After that I added a couple of coats of glitter gold spray paint to give it that antique gold throne look. After it was dry I added some diamond and heart rhinestones to the top and around the bottom for some extra detail. I Velcroed battery operated lights to the bottom and weaved them up and around the chair to make it stand out a little more.

I wrapped my wheels in glittery ribbon and made my spoke guards out of foam board. I used my original spoke guards as a pattern to trace so the foam board would fit and cut that out with a razor blade. I spray painted it with the same gold and glitter spray paint I used on the chair, but to get that to stay and not bubble I had to first coat the foam board in Mod Podge glue. I gave it a couple of coats and let that dry. I then stenciled the hearts, spades, diamonds, and clubs onto each foam board. I colored them in with red and black permanent marker and then applied Mod Podge glue to each suit very carefully and then adding super fine red and black glitter to each. Let each one dry before moving onto the next glitter section or your colors will mix. I used a fine tip bottle for the Mod Podge glue which helped in filling each shape perfectly. Once the glitter was dry I hot glued heart and diamond rhinestones between the different suits.

I also used the existing arm rests from the rocking chair on my chair. I spray painted them with gold and glitter spray paint and also adorned them with heart and diamond rhinestones. I then hot glued some Velcro to an old pair of wheelchair arm rests. I also used some zip ties to hold them on a little better.

I also used an old pair of boots and added some glitter after following some instructions I saw online. I used a clean makeup sponge and dipped that in Mod Podge and then applied that to the boot in sections. I didnít take the time to tape off the edges, but with that small of a sponge I didnít need to. The boots came out fabulous!

I did all my own makeup and a friend did my hair. I used my crown from when I was Ms. Wheelchair South Dakota and bought a beautiful necklace and earring set to make the dress. I also got some heart rings at the Halloween store to complete the look.