Queen Elizabeth II Costume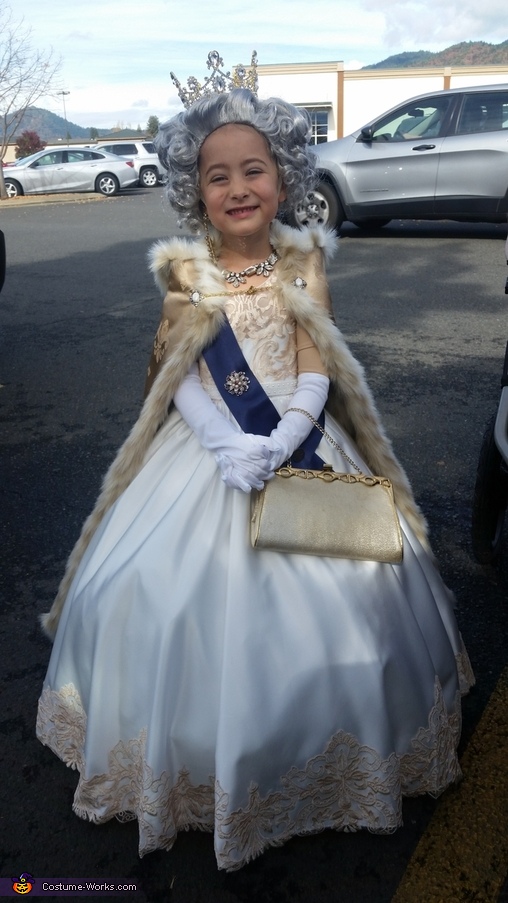 Queen Elizabeth II Costume
More views:
(click to enlarge)
A word from Dana, the 'Queen Elizabeth II' costume creator:
My 4 year old daughter is Princess obsessed (thank you Disney) so naturally, she wanted to be a princess for Halloween. Well, every year my husband and I work on making a costume for her and I just really wasn't feeling inspired to make yet another princess to blend in with all the others that would be out that night. I thought of potentially doing a renaissance princess, but that was not what she had in mind. Finally, it dawned on me- why be a princess when you can be QUEEN! So, I explained to her that the Queen is actually the one in charge and that she too, dresses in fancy and royal clothing...and that she would get an actual CROWN :). I pulled up some photos of Queen Elizabeth at her coronation and it sealed the deal! She really wanted to be the regal, young queen but I sneaked in the grey wig to make the costume current-otherwise, I don't think she would have been recognized as the actual queen. The outfit was a bit more challenging to piece together than I was initially anticipating and quite a bit more expensive (it cost money to dress like a queen). I had to buy a boys colonial wig (one that you would wear if dressing as Benjamin Franklin) and take it all apart, cutting here, sewing there, making size adjustments and sewing on the heavy crown.
I found a full length evening gown at almost the last minute (it's very hard to locate full length, formal dresses for young children) and added a hoop skirt underneath so it became big and full. After doing a trial run, it became apparent that dress was actually a bit too full length and ended up under her feel often. A last minute adjustment of pulling and pinning the dress up at the waist solved the problem. I also made a sash out of thick ribbon and adorned it with vintage pins I found at the thrift store. I bought plastic dollar store earrings, spray painted them gold and glued on clear crystals. I found a crystal necklace from the thrift that I sized down to fit her neck. I made a simple elastic strap that attached from her wig to under her chin to help keep the heavy crown on top of her head. Added full length gloves and a bracelet and we had Queen Elizabeth!
I was left with one issue-it's cold where we live on Halloween night. I bought a nude, long sleeved body suit, but it wouldn't be enough to keep her warm. Clearly, she was going to need a robe! I found some faux fur at a fabric store, my daughter picked out the buttons and I had some fleur de lis fabric in my sewing bin at home. I gave these items to my husband (who is a fire fighter that also sews for the Forrest Service) and he made a beautiful, hand stitched robe to complete the look! Her hand bag was her trick or treat bag.
She came out a spitting image of the Queen...even more so than I was hoping. We couldn't walk 4 feet without being stopped. Everyone knew who she was and said she was the most impressive trick or treater of the evening. It was a very fun image to duplicate.