Prince and The Revolution Family Costume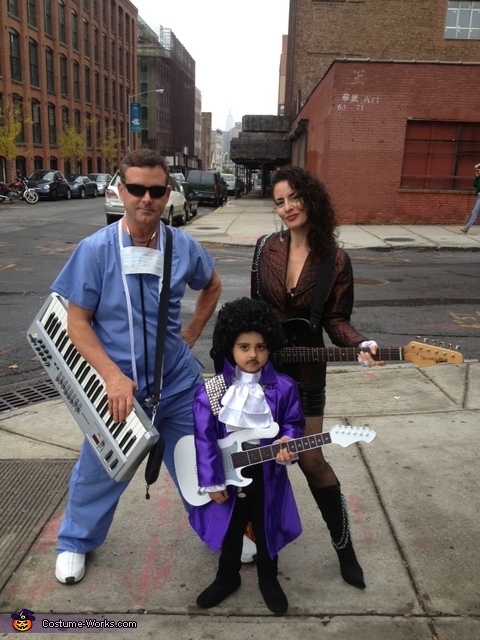 Ladies and Gentlemen....Prince....and the Revolution
More views:
(click to enlarge)
A word from Dawn, the 'Prince and The Revolution' costume creator:
My son, Leo, is Prince from Purple Rain. My husband dressed as Doc (keyboardist) & I'm Wendy (guitarist) from The Revolution.
I was a huge Prince fan back in the day so we thought it would be fun to relive the 80's a bit.
Leo's Prince costume is completely handmade. I watched Purple Rain over and over to get all the details of the purple jacket. It's made from scratch from purple satin & lots of starch for the collar. The right should is hand studded. The ruffle shirt is made from white and gray lining. For the guitar we found an inexpensive toy one and spray painted it white. My husband glued on white foam core to get the "Cloud Guitar" shape right. The leopard print guitar strap is actually a belt that was cut to fit. The wig was a Michael Jackson wig but we cut the sides and teased it to give it more height. Black eye liner completes Prince's look.