Popeye and Friends Dogs Costume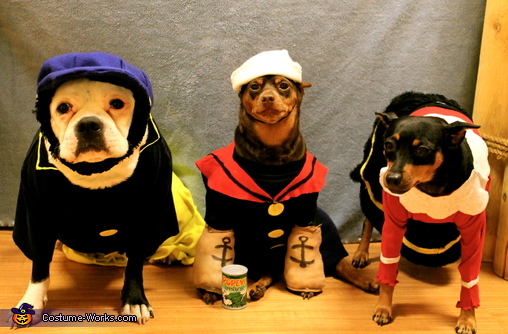 Popeye, Brutus and Olive Oil
More views:
(click to enlarge)
A word from Jennifer, the 'Popeye and Friends' costume creator:
Caiden, as popeye, Caillou as Brutus and Callie as Olive Oil are wearing these "Popeye" cartoon character costumes. I chose this theme for their costumes because their personalities really reflect the character's costume they are wearing. Caiden acts very much like popeye because he may be small, but he thinks he's a big tough guy..he also likes eating spinach! Callie is a very timid girl and loves hanging around Caiden, so she really does play Olive Oils part perfectly! Then there's Caillou…He is a big guy who loves to play with the other dogs but tends to get a little carried away, especially with Callie…that's when Caiden, or popeye comes in to save the day!

How to Instructions:

I bought the clothes (infant size) that the dogs are wearing (black collared shirt and yellow shorts for brutus; black t-shirt and blue shorts for popeye and a black dress and red shirt for Olive Oil. I used felt and fabric paint to make the trims on the costumes and felt for the neck pieces. I then found a pattern online for the two hats and also used felt for to make them. To make popeyes arms, I used stockings and put stuffing in them. I attached it (glue) to the black long sleeve shirt and drew on the anchor with marker. Lastly, I found a play-can and printed out a "popeye spinach" picture and glued it on.