Policeman from Doggie Bone City Dog Costume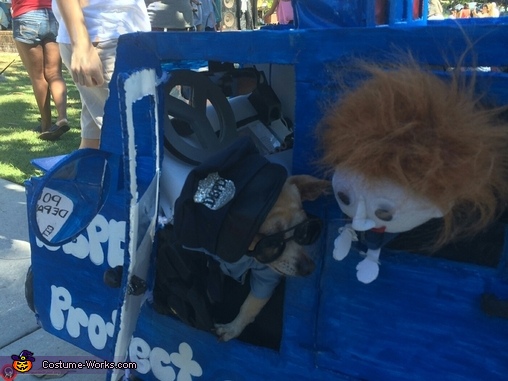 Just checking on my prisoner
More views:
(click to enlarge)
A word from Robyn, the 'Policeman from Doggie Bone City' costume creator:
William my little Chihuahua is dressed as a Policeman
from Doggie Bone city (DBPD) Doggie Bone Police dept.
He is sitting in a police car with real side mirrors
and rear view mirror. The head lights, rear lights
and the lights on top are all working functional lights.
The car has a front and back seat. The back seat has
a prisoner that I made by stuffing fabric with cotton
and putting a shirt on it. I used foam board to make
the arms and hands. I put handcuffs on his wrist.
I then molded his nose a painted his mouth. The dashboard
in the car has a simulated computer with warrant of
man being shown on computer. It also has walkie talkie
Steering wheel and gear shift. The lights on top are red
and blue and turn on with flip of switch. The car is
made from foam board, paint and ties to hold it
together. Its all built on a dog stroller. It
also has clear solid plastic for the front,
back of the car and windows on every door.
I made his badges from glittered foam
A plastic kids gun around his waist using plastic
for a belt. Used elastic band to keep his hat on
and Velcro to close the shirt in front. William
is so laid back and relaxed you could break in our
home and he would sleep thru it. :-) He loves
everyone and is such a good sport every Halloween.