Pixar UP (Russell, Kevin & Mr. Fredricksen) Costume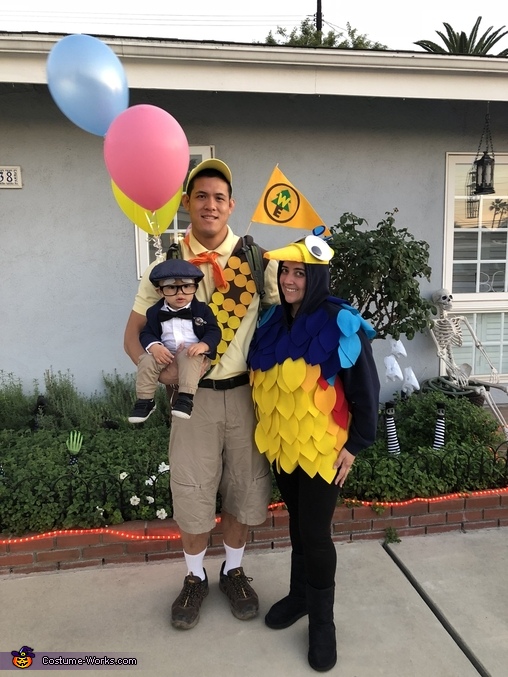 Russell, Kevin and Mr. Fredricksen
More views:
(click to enlarge)
A word from Monique, the 'Pixar UP (Russell, Kevin & Mr. Fredricksen)' costume creator:
Idea came from Pinterest Disney family costumes. Husband is Russell, baby is Mr. Fredricksen (Carl) and I am Kevin.
DIY concept costume, with a few clothing items already in our closet. The total cost for extra clothing items and material needed was about $45. Kevin is made from a blue hoody, covered in different color cut outs of felt shaped as feathers. Each sew on individually, row by row from bottom to top. Head/face of Kevin is yellow felt hot glue gunned to hood with large googling eyes velcro to felt. Feathers on head are 2 blue felts that are hot glued to black craft pipe cleaner then looped through holes on hood. Beak is a styrofoam 1/2 cone with orange felt hot glued over it then sew to hood. Russells flag and badge sash are made of felt. The WE badges on hat and flag are hand drawn and cut, then hot glue gun together.