Ship with Pirates of the Carribean Costume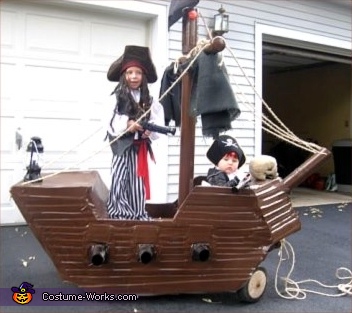 Pirates of the Carribean
More views:
(click to enlarge)
Some heavy contenders are rolling (maybe I should say "sailing") in Beginning with a couple of Pirates of the Carribean. With it's black sails and working lantern..this ship carries Pirates Jacob, 3 yrs old... and his little brother Benjamin a happy(as you see in the photo below) 9 month old. This young swashbuckling duet will terrorize the neighborhood on Halloween in search of CANDY! Ü

The Ship and Costumes created by my friend Bob in NJ. (I will have Instructions for building this ship, provided by its designer Bob, on my Homemade Costumes page REAL soon!)

Thank you for being here for the competition this year, Bob. Anyone interested in seeing more of Bobs "stuff"... Look for his awesome costumes and props on my Pictures and Homemade Costumes pages.
Thanks also to Jacob and Benjamin for being part of my contest!