Pirates Carrying a Treasure Chest Costume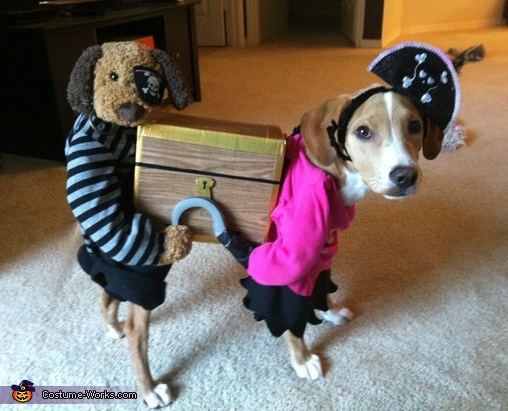 Hide the Booty!
A word from Sam, the 'Pirates and their Booty' costume creator:
My dog Riley is wearing this home-made pirate costume. The idea came from a friend who thought it would be funny to create. This costume cost roughly 50 dollars to make, but price could be adjusted depending on how detailed you want your project to be. Materials such as hook hands and eye patch can come from the dollar store. Clothing items used came from the childrens section at Target. Wood grain contact paper was used for the box, duct tape, all purpose craft clue, pipe cleaners etc. We had to cut a 12X12 box down 3 inches to fit our Riley because she is so tiny. Let your creative juices flow!