Pirate Thieves (Thief!) Dog Costume Costume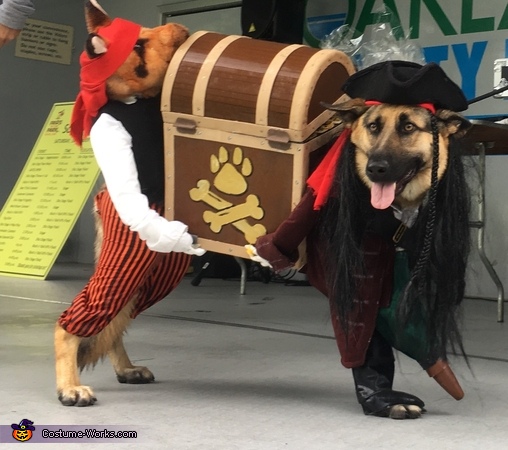 Elsa and her little friend!
More views:
(click to enlarge)
A word from Jay, the 'Pirate Thieves Dog' costume creator:
Elsa is a tripod so I liked this costume (as seen on the Internet) for her. I made the entire thing from materials I had at home and found items. I used corrugated plastic sign board found on the side of the road to make the treasure chest and filled it with foam core coins ( cut by hand into circles) each with a dog paw and crossbones drawn with a Sharpie. The hasp and embellishments were fashioned from craft foam sheets. I used a life-sized stuffed dog "borrowed" from my daughter to act as a costume dummy when making the pirate clothing and little pirate on her back end. The dog's head served nicely as this second pirate. I fashioned the little pirate hands with fabric and wires inside to make the hands pose able and more life-like. I felted the hat myself using 3 pieces of felt. The dome was made by wetting one piece and stretching it over a bowl. When it dried I used fabric stiffener (Stiffy) so it would hold its shape. I used Craft-Fuse between the remaining two pieces and cut them into a doughnut shape to fit around the bowl shaped portion. I sewed them together and then lifted the edges in 3 places along the brim, sewing them to the top of the hat to make a "tricorn" hat. The peg leg was carved from a stiff piece of foam block (also borrowed from my daughter's room!). I put about 90 hours work in over the course of a month. It was a fun project!